Coupons
Event Calendar
Choose a Region
Find Somewhere to Stay
Find Somewhere to go
Find Out What's On
Find Things To do
Roseneath Carousel - Since 1906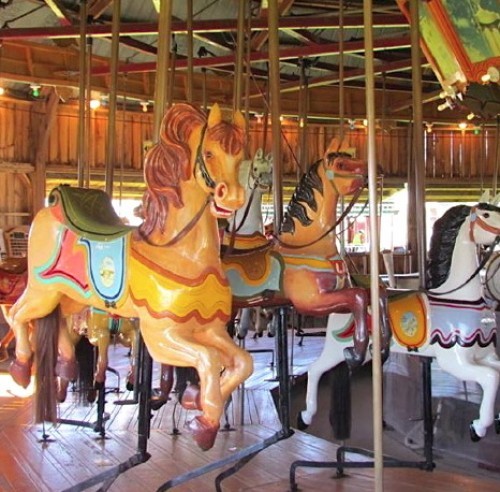 Central Ontario
9109 Cty. Rd. 45 Roseneath Fairgrounds
,
Roseneath
,
Ontario
,
905-352-3778

www.roseneathcarousel.com
Description
Take a ride on a beautiful Carousel that is over 110 years old! The music, brilliant colours and magnificent horses from 1906 make the Roseneath Carousel a destination for the entire family. The C. W. PARKER CAROUSEL has 40 basswood horses and two boats. Visitors are taken back to yesteryear as the 1934 Wurlitzer Military Band Organ plays on. This antique heritage attraction is a welcome stop in Northumberland County. We now have a new roof and outside walls a

The 1906 C. W. Parker Carousel was built in Abliene, Kansas. Since 1932 it has been owned by the Roseneath Agricultural Society. The Carousel consists of 40 wooden horses and two boats. It is fully restored to museum quality and it is rideable. Listen to wonderful music from a 1934, 125 Wurlitzer Band Organ complete with paper rolls.
Winner of the 2010 National Carousel Association Historical Award.
The second phase of the restoration is well underway, with the completion of a new roof and building walls!

Want More chances to Ride the Carousel in 2017

July 23 -" Rumble & Chrome on 45" the 25th annual Car/Truck/Tractor Show N' Shine visit www.roseneathfair.com and click on Show N' Shine

August 26 / 27 - Roseneath Pro Rodeo "sanctioned event" visit www.roseneathrodeo.com for full details

September 22 to 24 Roseneath Agricultural Fall Fair. Visit www.roseneathfair.com Fun for the whole family! Highlights include the Antique Tractor Pull, Horse & Pony &, Lawn Tractor Pulls , Demo Derby, Livestock, Homecraft & Junior Work competitions, Kountry KIds Korner, Baby Show, Displays and Demonstrations, Live Entertainment, BMX Freestyle Stunt Show, Wild West Show

Come and Enjoy some Down Home Country Fun!
Hours of Operation : Sundays 1-3 pm from Victoria Day Weekend to Thanksgiving Sunday.
Wheelchair Accessible : Yes