Coupons
Event Calendar
Choose a Region
Find Somewhere to Stay
Find Somewhere to go
Find Out What's On
Find Things To do
Victoria Playhouse Petrolia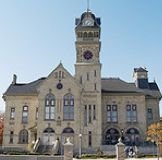 Southwestern Ontario
411 Greenfield St.
,
Petrolia
,
N0N 1R0
519-882-1221

www.thevpp.ca
Description
World class, professional theatre in a delightful small town!

2017 Season: Fiddler on the Moose, The Birds and The Bees, Happy Together 1967, Folks Like Us, Portia, and Rockabilly Swingtime. Come Celebrate With Us!

VPP is a 400 seat state of the art theatre housed in historic Victoria Hall. The VPP Summer Festival features professional productions that include musicals and plays with leading stars of Broadway and film.

Free parking, an outdoor terrace and a beautiful park next door make this a perfect outing. Come visit us.
Hours of Operation :
Wheelchair Accessible : No