Summer or Winter – Niagara Falls Is Year-Round Family Fun
By Natalie & Phil Friday, December 21, 2012
---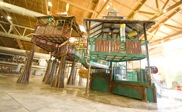 In the summer of 2006, we spent two nights at Great Wolf Lodge in Niagara Falls, Ontario.  At the time, our children were 5 and 3 years old.  We didn't know what to expect from a family vacation at an indoor waterpark resort. We had never been to one.
We enjoyed the experience so much that we thought we'd like to try the resort in wintertime.  In January 2012, at the dawning of the New Year, we returned to Great Wolf Lodge.  Now, our children were nearly 10 and 8.  The park had a different feel with older children in tow.  With the change of season, the park brought some changes with it too.
We have stayed in both a KidCabin Suite and a Wolf Den Suite.  The KidCabin Suite holds 6-7 people and features a queen bed and a built-in cabin with a bunk bed and daybed.  The Wolf Den suite sleeps 4-6 people and features a queen bed and a wolf den with a bunk bed.  The rooms are large, clean, and inviting to young families.   Our children loved the cabin features of the rooms and the bunk-bed layouts.  Having a private space, just for kids, was also nice for us.
The resort has standard and premium suites to meet the needs of families with older children. Many of the waterslide rides have height restrictions of 42" or more.  The lazy river, wave pool, and indoor hot tubs are available to all travelers.  The infant/toddler slides are limited to a maximum height of 48" tall.
In the heat of summer, the refreshing indoor and outdoor pools and waterslides make Great Wolf an exciting place to be.  Everything is open for use.  You can play mini-golf outside, lounge in the sun at the outdoor pool area, and enjoy all of the indoor slides and rides.
In the chill of winter, the outdoor pool and mini-golf areas are closed for use.  The outdoor hot tubs are still available to grown-up guests.  The children loved that they could be on waterslides while snow fell outside.
Their all-around, favourite rides were the Wooly Mammoth, a multi-passenger family raft ride with splashes, quick acceleration, steep drops, and a landing pool finish, and the Niagara Rapids Run™, a family water roller coaster.
Scoops® Kids Spa, Northern Lights ArcadeTM, Cub Club®, and MagiQuest® are some of the indoor attractions that are open all year round.  We were so busy at the waterpark that we only had time to "test" the arcade – a great place to skeet bowl, collect tickets and win prizes.
The Falls never stop flowing, and there is so much to see and do in Niagara.  The Falls provide wonderful views in both winter and summer.  In the winter months, the Winter Festival of Lights (including the world-famous Enchantment of Disney® displays) is on and is beautiful to view, especially at night.  Clifton Hill is open at both times of the year, and families can enjoy attractions like the haunted houses, the Ripley's Believe it or Not museum, and more!  The children loved the Disney lights and wanted to continue to walk and explore.  Find out about all the wonderful Niagara Falls adventures at http://www.niagarafallstourism.com.
The Hornblower, the legendary boat tour through the Falls, is open only from April to October each year.  On our next summer visit, we plan to jump on board!  Find out more at Hornblower.com
Great Wolf Lodge is located approximately 1.5 hours southwest of Toronto, Ontario, and is about 30 minutes north of Buffalo, New York.  The resort is about 10 minutes by car from the Falls and from downtown Niagara.  Enjoy a peek of the rates, amenities, and accommodations at www.greatwolf.com!
Our children ask us when we can go back to Great Wolf Lodge and Niagara Falls, Ontario!! They can't decide if summer or winter is better because Great Wolf Lodge is that much fun!
For more great Summer … or Winter … things to do, check out Summer Fun Guide.
By Robin Rakowsky
Robin Rakowsky is a happily married mom of two, a Librarian, and a writer. You can find more of her work at www.momwithlotsofthoughts.wordpress.com