BE A TOURIST IN YOUR OWN CITY!
By admin Friday, September 4, 2020
---
This has definitely been a summer to remember but it's not over yet! With a few more weeks of warm nights and beautiful sunny mornings, it's time to explore new places, go on adventures, and make memories in your own city! We often skip the very things that tourists come to visit for.  You would be surprised just how many Torontonians have never been up the CN Tower! This list however will give you some other less known ideas as well, from historic walking tours, sightseeing by paddle boat and exploring caves, no matter what region you live in there is surely something new and fun for you to explore.
GTA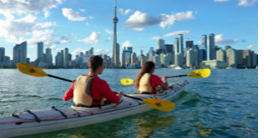 On a warm summer day, what could be more relaxing than taking in the gorgeous natural scenery of the 13 Toronto Islands and seeing our beautiful city from a different view. Located on the edge of Lake Ontario for over 30 years, Harbourfront Canoe and Kayak Centre is an attraction for many as it offers options for the whole family. Specializing in more than canoeing and kayaking, they offer Standup Paddleboards (SUP), and tandem Kayak tours. They also offer paddleboard Voyageur Canoe Sunset and Weekend Tours, no experience required. The Lakeside office is open daily from now through to September so get out there on the open water, relax, and enjoy every minute! Another attraction that should be on your list is the Aga Khan Museum. This incredible museum with its stunning displays and collections is definitely an experience you don't want to miss! It is the first museum in the western world dedicated to Islamic art and rare objects including artifacts from the private collections of His Highness the Aga Khan. This museum is dedicated to presenting an overview of the artistic, intellectual, and scientific contributions that Muslim civilizations have made to world heritage. Not only interesting but also educational for the whole family. Lastly you don't need to go far to try something new. Go Tours in the Distillery introduces several Segway tours to choose from. With speeds of 10 km/hr you can safely enjoy a smooth ride taking in the historic beauty of the Distillery District. Once you get the hang of balancing, they're easy to use and extremely fun to ride! Their guided tours range from 30-50 minutes and explore North America's largest collection of Victorian-era industrial architecture, numerous heritage buildings, shops, cafes, multiple galleries and neat outdoor sculptures. They even have a ghost tour that takes you through all the dark and creepy history of this very old district.
Niagara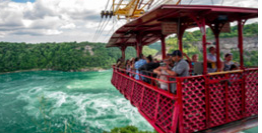 For those of you in the Niagara Region, if you are looking for a different, more exhilarating and thrilling way to cool off this summer, we have just the way to do it! Hold on tight and prepare to get soaked on a jet boat ride to remember. Whirlpool Jet Boat Tours takes you on an hour-long guided boat tour starting on the lower Niagara River into the Niagara Gorge. Explore the unbelievable scenery as you ride through the famous Niagara Whirlpool and the Class 5, Devil's Hole rapids! Whether you want to get wet or stay dry, there are jet boat options for both! To get a birds eye view, The Whirlpool Aero car is one experience for the books, that is if you're brave enough to ride it! The cable car is suspended from six cable's traveling safely between two different points of the Canadian shore of the Niagara River. Not only will you feel like a bird soaring high, you can take in the incredible view of The Niagara Whirlpool, one of the world's most frightening natural phenomenon's. This is sure to be an experience to remember!
Ottawa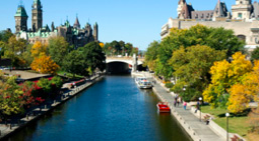 For those of you in the Ottawa region this is surely a new experience that just launched on the Ottawa river.  The all new Ottawa City Rating now offers Ottawa City Tubing!  Float down the Ottawa River on your own personal tube, on a two-hour, guided trip.  Easily paddle yourself through gentle rapids and past beautiful scenery on this "lazy river" and choose from an afternoon or sunset adventure. For you history buffs don't miss the chance to see the historic exhibition, Invasion, at the Canadian War Museum. This exhibit focuses on Canadians in the battle of Normandy and marks the 75th anniversary of this historic event. The exhibition shares the journey of seven personal stories of incredible Canadians and illustrates their stories by pairing powerful photographs of key events with reproduced archival items. Another historic attraction worth checking out is Rideau Hall. This historic 1830s structure is set on a 79-acre urban oasis just minutes from downtown Ottawa and Gatineau. Each year, thousands come to Rideau Hall for official events, year-round activities, and free tours. You can explore the grounds of Rideau Hall at your own pace by downloading the self-guided tour brochure and learn from the numerous interpretive panels showcasing art and cultural pieces. Explore more than 150 trees planted by members of the Royal Family, visiting heads of State and other
Southern Ontario/ Northern Ontario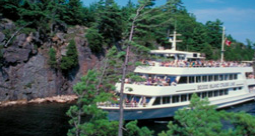 The Thunder Bay Art Gallery features 4000 sq/ft of exhibition space of 4 galleries. The gallery's mandate is to collect works by Northwestern Ontario artists and is committed to contemporary Indigenous, local and regional art. Take an afternoon and stroll the Gallery which has more than 1600 works of art in the permanent collection. For a little adventure lace up those hiking boots, grab your flashlight and get ready to explore Greig's Caves! Hidden away in the Bruce Peninsula, this natural cave system is a place of peace and tranquility with a rugged atmosphere. Enjoy a self-guided exploration of 10 limestone caves in the peace and calmness of singing birds and rustling leaves along the rugged trails. Cruising through Georgian Bays 30,000 Islands is definitely one thing that cannot be missed. It is the largest concentration of freshwater islands in the world! 30,000 Island Cruise Lines offer two tours to explore these beautiful waters. The Island Queen is a modern 132' cruise ship, specially designed to get up-close to the natural beauty of the islands and is perfect for the whole family.  Their Islander is a smaller boat that takes you off the beaten path with a guided walk over the rocks and into the forest and a dip in a secluded beach!
Eastern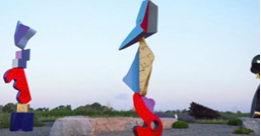 For a relaxing afternoon check out one of the oldest wineries in the County, The Black Prince Winery is located on a 50 acre estate on the edge of Picton. The 10 acre vineyard includes Chardonnay, Pinot Grigio, Cabernet Franc, Merlot, and a few hybrids. For over 18 years, Black Prince has produced fine accessible wine and experiences to remember. Not only do they offer some of the finest wines, you can now enjoy a gourmet wood fired pizza amongst the vines from the outdoor ovens. For a unique experience check out The Oeno Gallery Sculpture Garden at Huff Estates. The Sculpture Garden first opened in 2011 to provide an outdoor gallery for large scale artworks. The exhibition runs from August to December so be sure to check out these incredible artists' abstract and figurative sculptures made of steel, bronze, and stone, all the while strolling along three lovely acres of stunning winding paths.
Central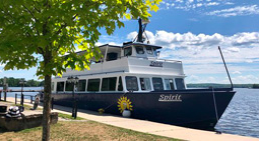 If you are in the Kawartha's, out on the water is where you want to be. Navigate the narrow channels among Stoney Lake's 1128 islands on the Spirit of the Kawartha's, the largest cruise boat in the Kawartha's. Relax and enjoy a delicious meal or light snack & drink while taking in the epic views of waterfront homes, the famous glass house, the Ronnie Hawkins estate and much more! For a weekend getaway Anglers Retreat close to Peterborough is a great family fishing resort where there is fun for all ages. Relax in a fully equipped waterfront cottage, bird watch, shop or fish for that perfect catch. Want to take your summer fun to a higher level? Get the family together and climb, swing and zip through the forest at Treetop Trekking – Zipline Aerial Parks. Plan a fun filled day climbing and zipping from tree to tree in the spectacular Copeland Forest. Surround yourself with nature and fresh air as you trek from tree to tree!
However you choose to end your summer we hope you will take some great memories with you.
Phil & Natalie