Coupons
Event Calendar
Choose a Region
Find Somewhere to Stay
Find Somewhere to go
Find Out What's On
Find Things To do
Ahmic Lake Resort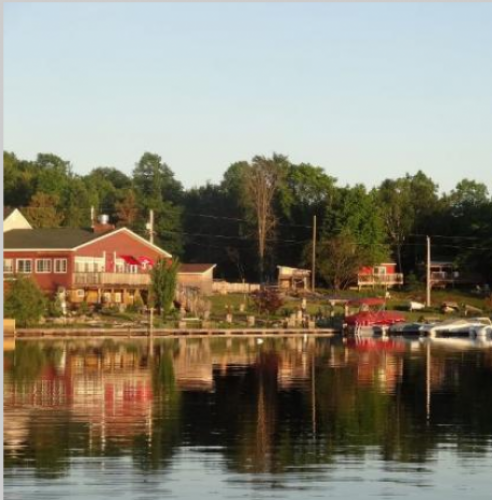 Description
There is something special in the Almaguin Highlands. Ahmic Lake Resort is your ultimate escape as it's not just a resort - it's a wilderness getaway experience!

Ahmic Lake Resort is an all-season resort located north of Muskoka in the Magnetawan / Parry Sound / Almaguin Highlands region of Ontario, featuring rental HK cottages, a luxurious house, camping facilities, and a licensed Restaurant and Bar. It's the ultimate getaway with 70 acres of magnificent landscape, 2,400 feet of lakefront, a dam, rapids, and a river on the property!

Take in the fall foliage or relax and take in the view from your cottage's shoreline. In this location of lush green woodlands and pristine lakes, you may enjoy boating, fishing, and hiking. In addition, wildlife observation, bird watching, golfing, hunting, horseback riding, and relaxation in beautiful settings are all available within the area surrounding Ahmic Lake Resort.

Ahmic Lake Resort has one-, two-, three-bedroom spacious cottages and a beautifully appointed five-bedroom home just a few steps away from the Lake. You can rent for 2 or the entire magnificent collection that can house up to 50 guests for a reunion or function.

Comfortable and clean, private and enjoyable accommodations for individuals, couples, and entire families for all four seasons, the Ahmic Lake Resort offers so much for just a day trip.

Beautiful Resort, Wonderful People, Perfect Vacations — Appreciate the north all year round with Ahmic Lake Resort!
Hours of Operation :
Customer Reviews: https://www.google.com/maps/place/Ahmic+Lake+Resort/@45.6659507,-79.7414855,15z/data=!4m8!3m7!1s0x0:0x816437ccea7482cc!5m2!4m1!1i2!8m2!3d45.6659507!4d-79.7414855
Wheelchair Accessible : No