Coupons
Event Calendar
Choose a Region
Find Somewhere to Stay
Find Somewhere to go
Find Out What's On
Find Things To do
Newsletter
Kickin' Back Alpaca Ranch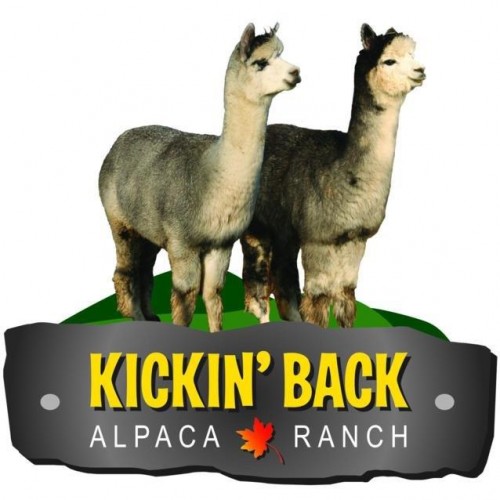 Description
Alpaca Farm Tours Are you obsessed with alpacas or just looking for a unique experience? Do you want to get right up close to an alpaca ? Then book a tour with us.

We offer Private Alpaca Tours. We invite you right into the"girls" barn where our mom's and crias live, hear interesting stories, learn about them, ask questions, feed them a treat, and take lots of photos. You will be amazed at how unique each alpaca is. We have almost every colour of alpaca there is and from crias (babies) right up to Grandma Almond who is 19 years old. We recommend wearing closed-toe shoes if you want to be up close with the alpacas. Our barn is wheelchair accessible.

Don't forget to visit our gift shop and see the wonderful sustainable fashion and home decor items we are creating from luxurious alpaca fibre. We have everyone's favourite alpaca socks, dryer balls, stuffed toys. We also create one of a kind hats, shawls, scarves, mitts and rugs.

You can book a private tour for you and up to 15 of your friends and family at our alpaca ranch.
Book your farm tour on-line, with simple easy to follow directions. We offer tours 7 days a week.
Appointments are needed.
Check the COUPON tab to get $15.00 off your tour.

Visit our Facebook page to see the latest on our alpacas, there are always lots of photos there to show you how adorable they are.

Spend the day or weekend in Grey County. After your visit here go on to visit our beautiful water falls, go for a hike, check out some of the local cuisine, art galleries. there are many lovely B & B's nearby . You need more than a day to play in Grey. www.visitgrey.ca

For the comfort of our alpacas we ask that you please do not bring dogs to the farm.

We are located just over an hour northwest of Brampton, an hour north of Guelph, 45 minutes southwest of Collingwood, 45 minutes south of Owen Sound.
Hours of Operation : By Appointment
Customer Reviews: 0
Wheelchair Accessible : Yes