Coupons
Event Calendar
Choose a Region
Find Somewhere to Stay
Find Somewhere to go
Find Out What's On
Find Things To do
Magic Winery Bus Tours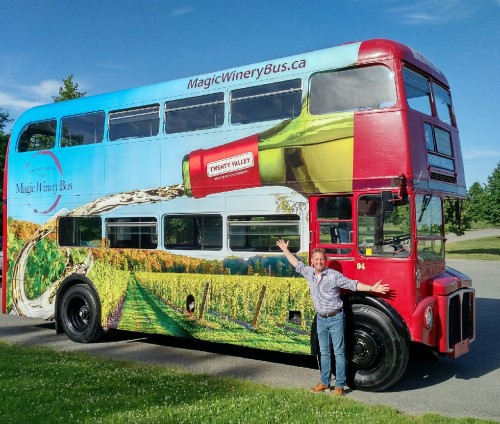 Description
A North American one-of-a-kind, this hop-on, hop-off excursion visits some of Ontario's best, boutique wineries. Experience firsthand Niagara's unique terroir that creates some of the most memorable wines in the world, learn a little about the region's history, and get a taste for why this region has a reputation as Niagara's hidden gem.

The bus travels in a continuous one-hour loop all day. Hop off and expect to be at each winery for about an hour. Browse the vineyard, capture the prefect picturesque photo, enjoy an extended tasting, visit the retail wine shop or stay another hour and add a culinary experience of your choice on a beautiful winery patio.

All booking is done online, in advance at www.magicwinerybus.ca.

Admission includes HST, day-long transportation, service of a professional and entertaining guide on your journey, chance to visit four wineries and a complimentary greeting wine at each stop.

A perfect excursion for family groups or friends.

We look forward to welcoming you aboard!
Hours of Operation : Friday to Sunday - June 21 to October 13. Departures 10:am, 11:am and 12:pm
Customer Reviews: 0
Wheelchair Accessible : No