Coupons
Event Calendar
Choose a Region
Find Somewhere to Stay
Find Somewhere to go
Find Out What's On
Find Things To do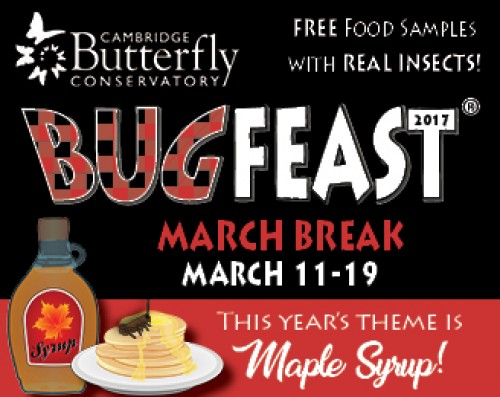 BugFeast!
Cambridge Butterfly Conservatory
Mar 11 2017 to Mar 19 2017
Region : Southwestern Ontario City: Cambridge
Description
BugFeast:
Come Sample REAL Insects in Tasty Recipes!
March Break:
Friday March 11th - Sunday March 19th, 2017
oin us during March Break and put your taste buds to the test! We'll tempt you with 3 bugtastic food samples:
BugFeast is sponsored by Entomo Farms "The Future of Food"
Samples are FREE with paid admission. Are you brave enough to eat a bug?