Coupons
Event Calendar
Choose a Region
Find Somewhere to Stay
Find Somewhere to go
Find Out What's On
Find Things To do
Gravenhurst Opera House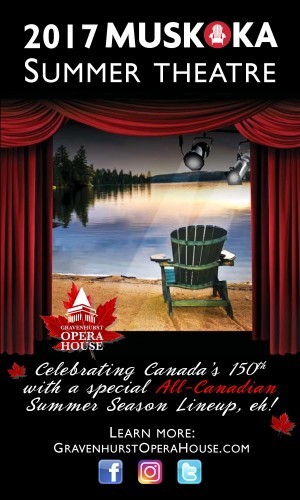 Description
Bringing you the best in entertainment since 1901, the stunning Gravenhurst Opera House is located right in the heart of Historic Downtown Gravenhurst; the Gateway to Muskoka. Celebrating Canada's 150th with an All-Canadian 2017 Summer Season Lineup, with over 100 performances to choose from. Save big with a Summer Season FlexPack and check out our unique getaway packages too! There is always something for everyone, all year long at the Gravenhurst Opera House!
A tradition worth coming back for!
2017 Summer Season includes:

Old Wives' Tales (June 13 to July 14)

Swing! (July 19 to August 25)

Sexy Laundry (September 12 to September 29)

Plus a variety of musical concerts to choose from.


Hours of Operation :
Wheelchair Accessible : Yes