Coupons
Event Calendar
Choose a Region
Find Somewhere to Stay
Find Somewhere to go
Find Out What's On
Find Things To do
Newsletter
Royal Botanical Gardens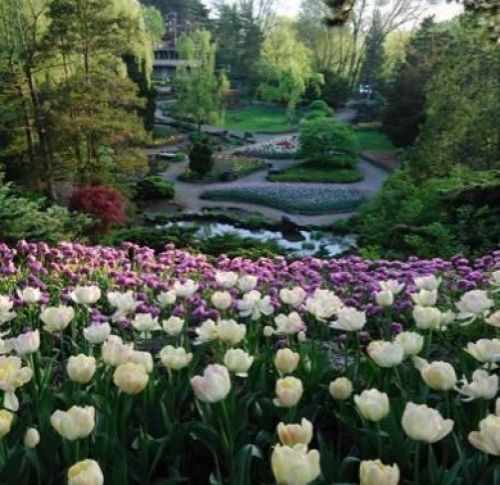 Description
Visit the largest botanical garden in Canada! With a mandate to bring people, plants & nature together, RBG features more than 2700 acres of stunning gardens & sanctuaries with fascinating events, exhibits & tours all year long. Walk through the striking 6-acre Rock Garden with magical Amphitheatre, see rare species of flora, migrating birds & natural fish production in the Nature Sanctuaries and enjoy the ever-changing seasons along 27kms of spectacular nature trails.

Royal Botanical Gardens is located at the western tip of Lake Ontario. Four distinct formal gardens are contained with 1100 hectares of nature reserve, nestled into the slopes of the Niagara Escarpment World Biosphere Reserve. The ever changing seasons, blooms, and natural phenomenon make each visit a new experience. Explore and enjoy the many historical plant collections, the Mediterranean Greenhouse, and the 27 km of nature trails.

The nature sanctuaries cover 900 hectares of land at the head of Lake Ontario forming a Nodal Park in the Niagara Escarpment World Biosphere Reserve. The property occurs in three main areas, the escarpment, Cootes Paradise, and Hendrie Valley. The landscape is dominated by the forested ravines that run from the escarpment to the two large coastal wetlands, Cootes Paradise and Grindstone Marsh. The flora of the area is among the most diverse in Canada and is home to many rare species. The property also plays an integral role in ecosystems that span international borders, serving as staging areas for migrating birds, and supporting natural fish production for Lake Ontario.

Visit us today for an experience you'll remember forever.
Hours of Operation : Open Daily 10am - 5pm
Customer Reviews: 0
Wheelchair Accessible : No