Places to Visit in Ontario
Coupons
Event Calendar
Choose a Region
Find Somewhere to Stay
Find Somewhere to go
Find Out What's On
Find Things To do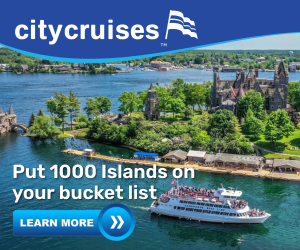 Places to Visit in Ontario
If you are looking for places to visit in Ontario, there are so many choices. Everyone always thinks of the big cities, like Toronto and Ottawa and they should certainly be high on your list, as they have so much to do and see. You shouldn't miss the CN Tower in Toronto or the Parliament Buildings in Ottawa or any of the other attractions that are known around the world. You also shouldn't miss Niagara Falls as everyone needs to see the Falls once in their lives. But Ontario is so much more than just those places; there are wonderful places to visit all over the province.

For example, in Central Ontario, consider a visit to Ontario's Lake Country (Orillia & surrounding) with Lake Couchiching, Lake Simcoe and The Trent Severn Waterway. Or Haliburton Highlands, which offers exhilarating outdoor adventures and loads of arts and culture. Ontario Highlands has 23,000 sq km of outdoor wilderness, and towns and offers rafting, trails, cultural experiences and festivals.

Eastern Ontario is no slouch either, with Cornwall and the Counties offering up scenic cycling and also amazing shore diving.

Or go north and discover the unspoiled lakes and waterways, fishing, hiking, and ancient forests that can only be found in this region. Northern Ontario has beautiful resorts and spas too!

And Southwestern Ontario is a really big area, with a huge range of places to visit. From the stunning shoreline and picturesque towns of Elgin County, to Canada's largest freshwater swimming pool and the Canadian Baseball Hall of Fame in St Marys to Chatham-Kent with national historic sites, world class outdoor adventure and great food & wine. We haven't even talked about London, Oxford, Bayham, Sarnia-Lambton, Petrolia, Owen Sound, Norfolk County, Windsor Essex Pelee Island, Guelph Wellington County...and more! From gorgeous beaches, to charming towns, to world class festivals, to heart-racing outdoor adventures, you can spend weeks going from town to town in the Southwest of Ontario and never run out of things to do or places to discover.

So come to Ontario and find so many places to visit that you'll never want to leave!
Click on the categories below for loads of summer fun listings in !