8 MAGICAL OUTDOOR SKATING RINKS IN ONTARIO
By Natalie & Phil Tuesday, January 11, 2022
---
It's a new year which calls for new experiences!  Finding fun outdoor activities and keeping active is a great way to spend the winter season. Ontario is filled with hiking trails, areas for snowshoeing, skiing and more! Wherever you are in the province, there are tons of adventures waiting for you. Looking for a great way to get the whole family together this winter? We have the perfect idea, ice skating. There are tons of unique and exciting places to go ice skating in each region. We've put together some of the most magical places to go ice skating around Ontario this winter that you won't want to miss out on!
GTA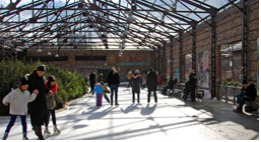 The Evergreen Brick Works outdoor skating rink in Toronto weaves through snow-covered gardens under exposed beams from the roof of the old brick factory. In the evening, tons of beautiful lights come on, lighting up this greenery filled space to make your ice skating experience one to remember. Bring your own skates or you can rent a pair of skates for $5 a pair. In Holland Marsh, Spray Lake Ice Skating Trail is a 2 km trail that has twists and turns around Spray Lake.  This new ice skating trail has stunning views for a fun outdoor day of ice skating. Grab your skates and book your time slot for the whole family to enjoy ice skating in this stunning area!
OTTAWA REGION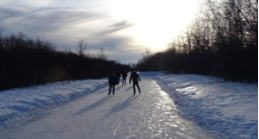 RiverOak Skating Trail is a top destination in the Ottawa area for outdoor ice skating. Grab your skates and skate along the twists and turns of the frozen trail through apple orchards, forests and meadows. This 3 km trail boasts beautiful views of the countryside. You can also play hockey, go snowshoeing or hike trails around the orchard. On Friday nights, the ice skating trail is lit up with tiki torches for an extra special skating experience under the starry night sky. We can't complile a list of the most magical skating rinks without mentioning The Rideau Canal.  This rink transforms into the world's largest outdoor skating rink from January – March. Rideau Canal Skateway winds through downtown Ottawa so you can take in the views of our Nation's Capital while you skate along the frozen canal. The Skateway is open 24/7 with 7.8 km of ice-skating fun!
CENTRAL ONTARIO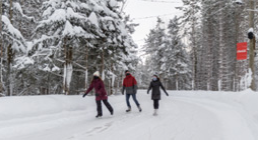 Head up to Woodview Mountaintop Skating at Blue Mountain for spectacular views of the Niagara Escarpment while you ice skate along a 1.1 km loop trail. Beautiful during the day, but even more magical at night when the skate trail is lit by tiki torches and thousands of interactive lights. You can access the skating trail via the Scenic Caves road and is open daily from 12pm-8pm so you can skate in the daytime and in the evening. At the Muskoka Lakes Farm & Winery you can skate on frozen cranberries!  This unique outdoor ice skating experience is one you can't miss.  Surrounded by views of 12 acres of cranberry fields in beautiful Muskoka, this 1.2 km loop ice skating trail is just as magical during the day as it is at night. Choose evening ice skating with 400+ tiki torches lit up to make this ice skating experience even more special! Enjoy hot mulled wine or hot cran-apple cider at the winery after you skate!
SOUTHWESTERN & NORTHERN ONTARIO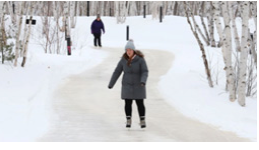 Skate along the 1.3 km skating path of Nina's Way Skating Path at Kivi Park. This ice skating experience will take you through trails of beautiful birch trees around each twist and turn. Looking for an evening skate? The park lights up the paths at night with LED lights for a unique night time skating experience. If you get cold from all the ice skating, you can warm up by the fire in the outdoor lounge. The park also offers tons of other outdoor activities for the whole family to enjoy! Located in Port Elgin, MacGregor Point Provincial Park is known for its abundance of outdoor activities including outdoor hockey, snowshoeing and cross-country skiing. But the main attraction is the 400-metre ice trail for ice skating in the park with stunning views surrounding the trail. The park illuminates the trail with tons of lights for skating under the stars until 10:00 pm every night. A perfect spot for the whole family, a group of friends or a date night!
With restrictions in effect it is so important to get outside, breath the fresh winter  air and get some exercise.  Skating is an excellent activity that is safe and the whole family can enjoy so bundle up and get out there!
Natalie & Phil