FUN CAMPING SPOTS FOR FAMILIES ALL OVER ONTARIO
By Natalie & Phil Friday, April 8, 2022
---
This one is for all our families who love camping. Have you started planning your Spring and Summer outdoor adventures yet? If you're like us, you're excited that things have reopened and this year we can plan ahead for all the fun things we want to do across the province. Key words here is to plan ahead as reservations fill up fast! One of our favourite ways to explore the Province and all its natural beauty is camping in the various campgrounds in each region. Ontario has so many unique nature parks with tons of outdoor activities, hiking trails and beaches that you can camp at.  Explore the parks and surrounding areas during the day and relax at night by a campfire while staring at the beautiful night sky! What better way to take in the beauty of our province while enjoying our Spring and Summer months with your family. We've put together some great spots you can add to your list this year.
Wesley Clover Parks & Campground (Ottawa Region)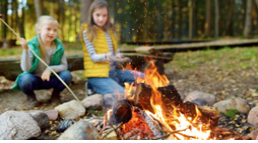 Wesley Clover Parks, one of the major not-for-profit initiatives undertaken by the Wesley Clover Foundation, is a community for outdoor education and recreation. Here you can camp, ride, learn, play and more! Wesley Clover Parks Campground is the perfect outdoor escape in Canada's Capital Region, just 15 minutes outside of Ottawa. This urban getaway is equipped with trails, places to bike, updated amenities and more!  Bring a tent, a trailer or an RV to camp how you want!  This family destination is a great escape just outside of the city to get the whole family active and creating memories together. If you're looking for a glamping experience, you can book a cabin filled with all the modern essentials you're used to like microwaves, beds, a mini fridge, and electricity. Keep busy during your stay playing on the playgrounds, staying cool on the sprinkler pad, learning about nature through the Forest School, hike and bike the many trails, and more!
Cedar Park Resort (GTA)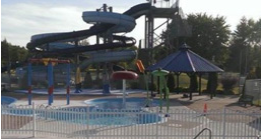 The perfect combination of camping and summer fun, all in one place! Cedar Park Resort is a family summer destination, just east of Toronto, in Bowmanville. Pack your bags for a weekend or week away jam packed with fun in the sun. Cedar Park Resort offers tent-trailer, trailer or R.V. camping sites (no tent camping). While you're camping, keep cool in the pools, on the waterslides, splash pads and on the Aqua Playgrounds. Dry off and play some mini golf, tennis, or go for a hike or bike on the trails on the 30 acres of parkland. Picnic benches and shelter areas are located throughout the park so you can enjoy snacks or meals wherever you are. This popular spot books up fast, so don't wait to plan your visit this year!
Saugeen Springs RV Park (Southwestern Ontario)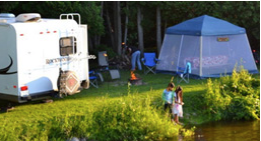 Go camping on the River at Saugeen Springs RV Park. Choose from short term and long term stays at this family fun campground and RV Park. Bring your own tent or trailer or rent a rustic cabin, cottage or trailer for your stay. This camping spot is filled with nature trails, activities and entertainment to stay busy, or you can relax on the beach and by the campfire at night. Swim in the crystal-clear Saugeen River, use WiFi throughout the park, try the floating pond & beach area, play volleyball, go tubing on the river, two playgrounds, giant chess & jenga games, a petting zoo, an outdoor green gym, horseshoes & shuffleboard courts and more! Enjoy clean washrooms, hot showers, beach huts, and get any essentials you need from the Camp Supply Store. With so much to do, this family camping spot will create memories that will last forever!
Long Beach Conservation Area & Campground (Niagara Region)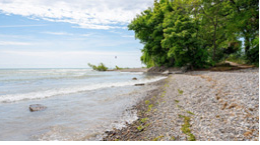 The Niagara Region is known for its beautiful landscapes, wineries, Niagara Falls and the gateway to outdoor fun. Within the Niagara Region there are plenty of places to go camping so you can take in all nature has to offer for more than just an afternoon.  Reserve a camping spot at the highly sought after Long Beach Conservation Area & Campground, in Wainfleet, Ontario, perfect for a family outdoor adventure. This spectacular location is situated on Lake Eerie and is a nature lovers paradise. Get the whole family active during the day swimming at the beach, go fishing, sailboard or jet-ski, or put on your sneakers and head out on a hike. Relax on the beach or by campfire while taking in the scenery. With only 225 serviced and unserviced campsites available, this spot is booked quickly, so don't wait and visit Long Beach this summer!
Algonquin Park (Central Ontario)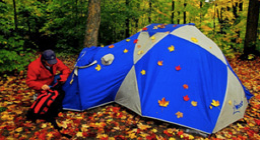 Pack up the car and head to Algonquin Park in Whitney, Ontario located between Georgian Bay and the Ottawa River. This pristine provincial park is a top outdoors destination for many activities including camping. With several camping site options throughout the park, you can choose the best option for your family. Choose from Backcountry Camping, Car Camping, Dog-Free Camping, Group Camping, Radio-Free Camping, Walk-In Camping and Roofed Accommodations (cabins). Each option offers camping to meet your family needs and camping style.  Let your dog off leash, be in radio-free areas or choose a campsite you can drive in to or walk in to. The options are endless in this park! Top camping spots to check out are Tea Lake, Canisbay Lake, Mew Lake, Two Rivers, Pog Lake, Kearney Lake, Coon Lake, Rock Lake, Kiosk and Brent Lake, Achray Campground, Whitefish Lake Group Campground and many more! Get full park access and camping information on the Park's website to plan your trip.
Edgewater Family Camping Resort (Eastern Ontario)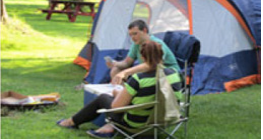 Book a weekend or week away camping in the great outdoors at Edgewater Family Camping Resort in Picton, Ontario.  This family fun destination has 84 sites for seasonal trailers and 40 tenting sites for overnight or weekend camping. The park boasts views of the Lake near the changing sands of World Famous Dunes. Go swimming off the dock, take your boat out for a spin, go kayaking or canoeing, or go fishing!  Ready to take a break from the water? Play volleyball in the sand, play horseshoe, bike ride, walk the island road or relax on the beach. Bring your bikes to explore the many trails, county hotspots and more. Located near the Camping Resort, stay busy during your stay exploring one of the many things to do close by; antique shops and flea markets, golf courses, driving range with mini putt, museums, rent a windsurf, sea-doo or pontoon boat or go see a movie at the drive-in-theatre.
Time spent in nature with family is guaranteed to create some special memories. There are so many beautiful spots to choose from for all levels of campers.  Have fun and don't forget your bug spray!
Natalie & Phil