4 great things to do in the Haliburton highlands
By Natalie & Phil Wednesday, August 13, 2014
---
The Haliburton Highlands is a unique place to spend your summer vacation time.  The area is rich in natural beauty, outdoor adventures, history, culture & more. It even has 6 motorcycle routes! If you're looking for a place to experience the amazing Ontario landscape, this is a wonderful place to explore.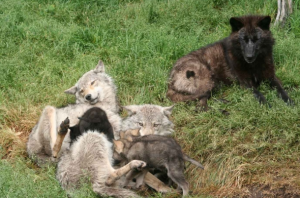 Haliburton Forest & Wildlife Reserve is a privately owned forest on 80,000 acres of land.  The lakes, forests, biking & hiking trails are a beautiful place to explore.  If wildlife is your interest, take a visit to the Wolf Centre where you can watch an unsocialized pack of wolves roam freely in a 15 acre sanctuary.  For the adventurer, take a "Walk in the Clouds" through the treetops on the world's longest canopy walkway tour, or try wilderness camping.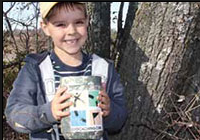 Known as the "Geocaching capital of Canada", the Haliburton Highlands is the place to visit for this unique activity.  Geocaching is an international game of high tech treasure hunting.  Participants use a GPS to locate treasures that have been hidden in a chosen area by other geocaching players.  The Haliburton Highlands have 7 small hamlets where treasures have been hidden & businesses support this amazing game.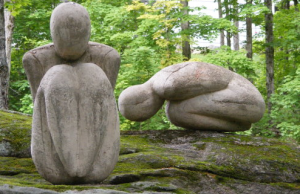 Art lovers will enjoy this unique outdoor art exhibit.  Take a stroll or a bike ride through the sculpture forest & see the sculptures by Canadian & international artists.  You can walk at your leisure or join a guided tour which runs every Tuesday at 10am in July & August.  The Sculpture Forest shares the park with the Haliburton Highlands Museum where you can learn all about the area & its history.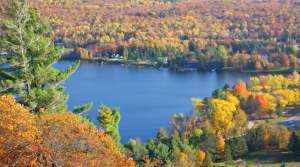 This area of the Haliburton Highlands is full of many attractions that are well worth a visit.  There's the Dorset Lookout Tower where you can picnic, hike & climb up the tower to enjoy the view 142 meters above Lake of Bays.  Hawk Lake Log Chute is the last chute of its kind in the park – a visit here will educate you all about its history.  There are also 2 falls to visit in the area – Buttermilk Falls & Ragged Falls.
The Haliburton Highlands has so much going for it – it's a must to check out this summer!  A great place to immerse yourself in the natural beauty of Ontario's landscape and experience unique activities.  Try you hand at geocaching, for a cool summer adventure!