4 STUNNING PLACES IN ONTARIO THAT ARE OPEN NOW TO CONNECT WITH THE OUTDOORS.
By admin Thursday, May 28, 2020
---
This Summer will definitely be a Summer like no other.  With social distancing in place, and most events and festivals being cancelled, nature will be our summer BFF and one we can most likely count on that will allow us plenty of space to safely enjoy our always too short summer.  Luckily for us, Ontario is full of beautiful places to connect with the awe of nature and we have picked 4 places that are open right now to do just that.
Pathways on Pleasure Valley (GTA)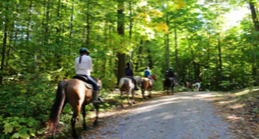 A short drive NE of Toronto, Pathways on Pleasure Valley offers a unique horseback riding experience for all levels of riders through 225 acres of breathtaking scenery and tranquil forest trails.  Enjoy a private morning, afternoon or even a romantic evening ride for two with a well-trained equine partner as your guide. Pathways on Pleasure Valley is currently open for private rides and by appointment only.  Masks are mandatory for all trail rides.
Conservation Halton Parks (GTA)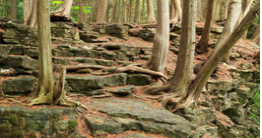 Conservation Halton Parks is a nature lovers dream.  With over 10,00 acres of natural parkland to explore, you will find everything from waterfalls, spectacular forests and caves to explore! Five of the seven parks for hiking and biking are currently open and can be accessed by using their new reservation system. Crawford Lake, Hilton Falls, Rattlesnake Point, Mount Nemo and Kelso Summit (biking only) will be open to members and to the public, for paid access, from 9am-9pm. Most, if not all of the trails will be available, but facilities such as washrooms, outhouses and visitor centers, will remain closed. Keep checking their website as other parks and facilities will be added in the coming weeks!
Torrance Barrens Dark-Sky Preserve (Central)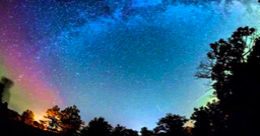 The first of its kind in Canada, the Torrance Barrens Conservation Area was the first in the world to be officially recognized as a Dark Sky Reserve where star gazers can get a spectacular unobstructed 3600-degree view of the night sky! Located in the Municipality of Muskoka you will be completely removed from any urban light pollution where even an amateur's telescope can see the rings of Saturn.  Get lost in distant galaxies and in the late summer and early fall you may even see the magnificent northern lights!
Algonquin Park (Northern ON)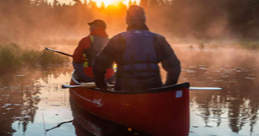 Algonquin Park is an incredibly stunning outdoor playground with many options on how to explore it.  It's also the biggest provincial park so it can be a little intimidating knowing where to start! As of now there is no camping or beaches open at any Ontario parks however it is open for day use to enjoy many activities such as hiking, biking, picnicking, fishing, canoeing, horseback riding and boating.  The best place to start for hiking is off Hwy 60, as there are many trails along this Hwy.  Its best to get a trail guide which can be picked up at the entry gate.  Each trail is designed to explore a different aspect of Algonquin.  If you are keen to see wildlife check out the Mizzy Lake Trail or if you are more set on finding those picturesque views, try the Centennial Ridge Trail for the best scenic lookouts.  If you are looking to bike there are three bike trails ranging from flat surfaces, best for families and children, to the more rugged mountain biking experiences.  Algonquin Park is also home to some of the finest Brook Trout and Lake Trout fishing in the world so a day out fishing is guaranteed to be a winner.  One of the best ways to explore the park is by canoe.  Check out Voyageur Quest who are currently offering curb side canoe rentals by appointment only.  There are select washrooms open in the park but but make sure to bring your own water, food and hand sanitizer as there is no running water for hand washing or drinking.
We hope to see more of our beautiful province open in the next couple weeks but for now we still have many great options that are close to home and make for a fun day outing.
Have a great summer!
Natalie & Phil