An Inside Look at Port Hope (POHO)
By Natalie & Phil Monday, July 15, 2013
---
Hi there … Joanne here again!
Filming continues on our 14-week @PerfectWknds Travel Report web series, (http://kawarthasnorthumberland.ca/videos), focusing on the exciting things to do and see in the wild, wacky and always wonderful region of Kawarthas Northumberland – land of 1000 perfect weekends. For more things to do in Kawarthas/Northumberland, check out Summer Fun Guide.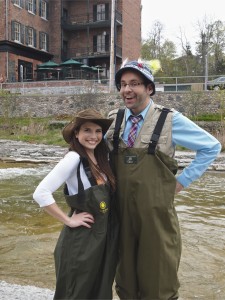 Each time we explore a new location, it's a ton of fun and I always find something special. This was particularly true of our recent fly-fishing episode in Port Hope. Our guides, John and Juliet, were great sports as we donned our waders to meander into the Ganaraska River. My co-host, Jason, was really excited about catching "the big one".
And I intended to fish – I really did! The Ganaraska was beautiful and the waders did a nice job of keeping me warm and dry in the chilly spring waters…but I was helplessly lured by the beauty of Port Hope's Main Street with its incredibly cute shops, cafes and picturesque Capitol Theatre.
So while Jason sloshed off to his secret Steelhead spot, I tempted Juliet with the idea of our own girlfriend getaway – and she took the bait! I have to admit it felt so nice to get out of those waders and into a something more stylish.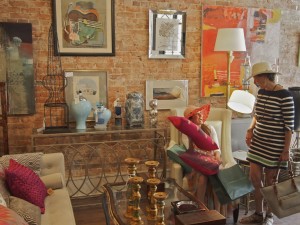 After hanging the Gone Shoppin' sign, we wandered through antique and home décor stores and I found quite a few adorable dresses, hats and jewelry pieces to distract me. Juliet definitely knows shopping as well as she knows trout!
A couple of hours later, we reunited on the riverbank to share our "catches." Jason and John each caught a fish and, for a guy who doesn't fish often, I'd have to say Jason was "hooked!"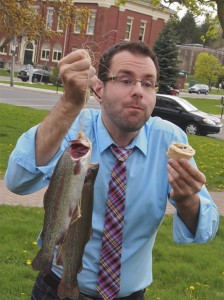 That was our day in POHO! I loved the fact that Jason and I could both have a great experience, but in our own ways. And of course, share an award-winning butter tart or two from Betty's with the crew afterwards.
I can't wait to bring my girlfriends back here!
So until next time, "tight lines" to all!
Joanne Blouin
@PerfectWknds co-host