Girlfriend Getaway's in Ontario
By Natalie & Phil Monday, December 9, 2019
---
Personally, I don't think you ever need a reason to plan a girl's trip other than just to have a good ol' time with your favourite gals! Getting away and unplugging from it all with your best girlfriends calls for a very special itinerary. Whether you're looking for a spa resort to unwind together, an action-packed weekend at the casino, the sophistication of wine sampling and art galleries or a place for outdoor adventure, these locations in the Ontario make for perfect girlfriend escapes.
Casino's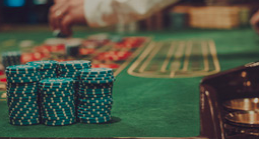 If you're looking for an action-packed experience, Casinos are always a great idea for a girl's trip.  They combine all kinds of entertainment, dining and of course lots of drinking!  Du-Lac Leamy in Ottawa is full service.  Choose from a variety of shows like comedy, music and theater. Experience their new and interactive group gambling zone that incorporates lights sounds and a festive ambiance and are great for novice gamblers.  Enjoy fine dining then dance the night away at their Nightclub Alea.  Try your luck at one of the Shorelines Casino's in Eastern and Central Ontario or if you are in the South Western area the Elements Casinos offers everything from watching the game at the pub, to a live show on the weekend and the chance to win a big jackpot!  If you are in the GTA region start your night off at Casino Ajax or Casino Woodbine  sipping Martini's and hitting the slots.
Spa's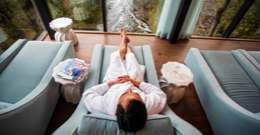 If you are looking for a tranquil girlfriend's escape, Ontario has some of the best spas that you can choose to visit for the day or settle in and stay for a couple days to really fully unwind and escape from it all.  Nestled in the heart of a charming village, with panoramic views from its perch atop a thundering gorge, exists a place like no other. Elora Mill Hotel & Spa is a one-of-a-kind destination. Enjoy restful moments in your luxury suite and unwind with your friends in the lounge and spa.  Scandinave spa in Collingwood is an award-winning Spa, renowned for their outdoor Scandinavian Baths experience nestled in the heart of nature. The year-round experience also offers Registered Massages, Getaway Packages & delicious Bistro selections. In the Ottawa region Nordik Spa-Nature  is the largest nature spa in North America and is the perfect place for a tranquil girlfriends' escape. Take in Nordik's Thermal Experience and relax as you alternate between hot tubs, saunas, cold or temperate pools and periods of rest. Massages are also available. 100 Fountain Spa in Niagara has an indoor salt water pool and extensive spa menu. Sit fireside in the plush spa lounge overlooking the outdoor hot springs as you await your spa pleasure. With a stay at The Briars Resort & Spa on Lake Simcoe you and the gals can relax at the full-service spa, where you can enjoy massages, body treatments, and facials. In the summer months you choose to get some exercise with a round of golf or enjoy a lazy day at the private beach.
Wineries & Micro Breweries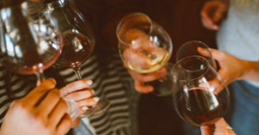 Sometimes a girl's getaway is just what you need to remember what it's like to have fun without all your other responsibilities. Why not explore over 130 wineries and 17,000 acres of vineyards stretching from Niagara Peninsula to Prince Edward County to Lake Erie North Shore and beyond. Nestled amongst the rolling Caledon hills, Spirit Tree Estate is a food and cider lover's destination located in a unique staw-bale building. Or visit Burning Kiln winery and tour the picturesque vineyard and taste some of the most delicious wine you've ever tasted. For a North American one-of-a-kind experience, Magic Winery Bus tour is a hop-on, hop-off excursion that visits some of Ontario's best, boutique wineries. Experience firsthand Niagara's unique terroir that creates some of the most memorable wines in the world. In Prince Edward County visit Waupoos Estates Winery where you can enjoy the award winning wines by the glass, indulge in a light lunch or reserve for a fine dining experience If you're looking for good craft beer Ottawa is the place to be. Canada's capital boasts craft beer pioneers like Beau's All Natural Brewing Co. and lesser known gems. Ottawa has many breweries and cideries to enjoy; so many that there is actually a Brewery Discover Route called Backroom Deals and Muddy Wheels Trail which highlights them. Choose a designated driver and see the creative offerings this region has developed.
Adventure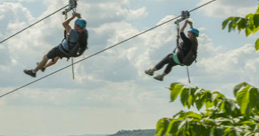 If you are the adventurous bunch or just seeking a thrill why not try something different and share a unique experience, one that you and your girlfriends will be talking about for years to come.  For an unforgettable experience fly a huge falcon bird at Hawkeye or visit the CN Tower's  EdgeWalk – the world's highest "hands-free" walk on a building!  Soar through the treetops on a zipline & Canopy Tour or explore the dark night's sky viewing distant planets, stars and nebulas on a star gazing tour at Long Point Eco Adventures on Lake Erie.  Explore caves, caverns and crevasses carved millions of years ago by glacial ice and savour the breathtaking lookouts from the highest point of the Niagara Escarpment at Scenic Caves Nature Adventures. When the weather is a little warmer hit the rapids for an adventure of a lifetime at Wildness Tours Rafting & Kayaking Resort in Ottawa and with winter approaching plan a girls trip to Highland Wilderness Tours in Algonquin Park for a snowmobiling or a Dogsledding Tour.
Theatre & Performing Arts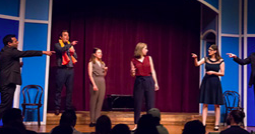 Sometimes it's nice just to kick back and be entertained and incorporating the theatre or a performing arts show is always a great addition to a girl's getaway itinerary.  Brockville Arts Centres is one of Canada's finest medium size historic theatres with 700 seats in a restored facility. It not only has excellent events year-round, but also contains one of the Eastern Ontario's top art galleries.  With over 100 theatre performances & musical concerts to choose from Gravenhurst Opera House in the Muskoka region is guaranteed to have something for everyone. Who doesn't like magic? Niagara Falls is host to the grandmaster of Magic himself Greg Frewin at the Greg Frewin Theater.  Witness jaw dropping magic with a Vegas flare and one of a kind illusions that are internationally renowned. Ottawa is home to theatre and performing arts ranging from Canada's oldest community theatre to the National Arts Centre to symphony and dance and everything in between and if you are in the GTA area and looking for a laugh, there are no shortage of comedy clubs to choose from such as Second City, Yuk Yuk's and Comedy Bar.
Museums & Historical Sites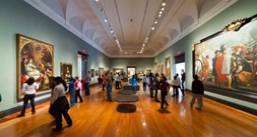 A little sophistication and culture is the perfect way to spend an afternoon in between shopping and dinner.  Castle Kilbride National Historic Site is located 15 min from Kitchener or Stratford where you will step back in time to the lavish Victorian era. Visit one of the finest examples of an upper class Victorian home you will ever see. Take a tour through Fort George National Historic Site in Niagara.  See soldiers fire muskets at the oldest military building in Ontario. Listen to the sounds of the Fife and Drum Corps, witness authentic training manoeuvres, taste food prepared over an open fire and even fire a musket yourself if you choose! For all your nature buffs, natural history comes alive through amazing exhibits at the Canadian Museum of Nature in Ottawa.  Featuring world class galleries: See iconic mammals, Canada's original collection of dinosaur fossils; an enormous blue whale skeleton; and a new Arctic Gallery. Lastly, in Northern Ontario, Thunder Bay Art Gallery is the  largest public art Gallery in Northern Ontario focusing on the contemporary art of Indigenous and Northwestern Ontario artists
When your with your favourite girlfriend's it doesn't really matter what you do, its guaranteed a good time but hopefully these ideas will inspire you and help you plan the ultimate girlfriend getaway!
https://credit-n.ru/order/zaim-hot-zaim.html виваденьги займмиг кредит оформить займлегкий займ онлайн