Spending The Day On The Water In Grand Bend
By Sarah Wednesday, August 15, 2012
---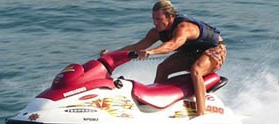 Skimming across the cool Lake Huron water I realized I had never gone this fast outside of a car or plane before.  The jet ski skipped over each trough of the waves with ease and seemed to be barely touching the water.  It was a thrill and a great way to try to keep my mind off the slow end of summer.
The second week of August seems to signal the beginning of the end of summer in Ontario, Canada. Kids start to dread going back to school and I start to dread the end of warm weather.  I was watching television and trying to plan my next move when I came across speedboat racing.  These huge powerful boats skipped across the water like a flat rock and I decided I wanted to do that and get the most out of the last couple weeks of warm Ontario weather.  Unfortunately (or fortunately) the closest somebody like me could get to speedboat racing would be to rent a jet ski, so that is what I did.
I went to Exclusive Sport Rentals, which is located just outside of Toronto in Vaughn, Ontario.  They specialize in all sorts of adventure rentals from fishing gear, electric scooters, and blow up boats to snow mobiles and ATVs.  Unlike lake rentals they rent equipment for up to a week at a time. Instead of having to rent a jet ski at Wasaga Beach for an hour you can rent one at Exclusive Sport Rentals for a day or more. That makes it much more cost effective and convenient.  If you are more of a dry land type of adventurer they have a wide variety of off road and motorized vehicles along with bicycle rentals and bike racks for transporting.  They have everything you need.
All of the personal watercrafts (PWC) are professionally maintained. While I would assume most lake rentals are safe I would trust Exclusive Rentals completely. I decided on a powerful Kawasaki and figured a day rental would be plenty for me.  I was heading to Grand Bend, Ontario and planned on being back the same day.
Three hours later I drove down Lakeshore Rd along Lake Huron and into Grand Bend.  It is such a beautiful area and full of a ton of history. Grand Bend has been here since the 1800s and continues to thrive as a great resort town. There are a lot of summer homes and cottages in the area and people from all over the world visit.  The beaches are great and while there is a lot of partying and nightlife it is also a good place for a family vacation.
While it was tempting to sit on the beach or go out to a club I wasn't here to get a tan or dance the night away, I was here to jet ski. I backed the trailer down to the water and tied up the jet ski while I parked.  A few minutes later I was out on the water flying past the crowded beaches, at a safe distance of course. It felt so satisfying and free.
I had invited a friend of mine to come but she had to drive separate so she met me back at the boat launch a little later in the day.   We cruised the open sea (Lake Huron) and enjoyed the beautiful scenery of Grand Bend, Ontario, stopping for lunch and a quick layout on the beach before we were back on the water again.
If you are looking for something to do and a way to explore the amazing lakes of Ontario I suggest jet ski or one of the many other rental options Exclusive Sport Rentals offers.  In the meantime enjoy the rest of your summer!
For more info on Exclusive Sport Rentals visit their website at www.sportrentals.ca.  For things to do in Ontario during the rest of your summer visit Summer Fun Guide www.summerfunguide.ca.