Things to do in Muskoka- Boat & Heritage Centre
By Karl Friday, June 15, 2012
---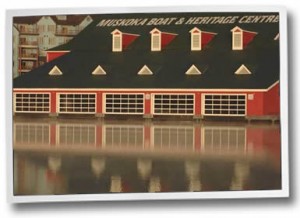 I had heard a lot about "The Real Muskoka Experience" and it made me wonder what I had missed with my other Muskoka experiences.  I invited a group of family members to join me in what I hoped was the first of many real Muskoka experiences, at the Muskoka Boat and Heritage Centre located at the beautiful Muskoka Wharf in Gravenhurst. If you are in Muskoka it is definitely something you should do.
When you walk into the Muskoka Boat and Heritage Centre it is like going back in time. I enjoy history a lot and I could tell right away this was going to be fun and informative.  A few of my family members didn't seem as excited about the traditions of the steamship or boat building as I did, but I had faith we could turn them into steamboat enthusiasts.
We decided the best way to see the Centre was by taking a guided tour.  Not only are the tickets cheaper but you also get someone who knows everything about the Muskoka Boat and Heritage Centre to provide you with additional information.  The woman who gave us the tour was amazing.  She was able to answer all of our questions and had a great sense of humor when it came to my loud family.  She played a big part in winning over those who hadn't been the most exciting about coming to the Centre.
The tour wound throughout the Muskoka Boat and Heritage Centre and gave us an idea of the history of boating in this area.  There were areas for canoes and wooden boats, which demonstrated the craftsmanship of the earliest boat builders and the progression to recent builders.  There was a working history of engines and a lot of interactive exhibits geared towards the kids.  They were able to get hands on like when they climbed up into the front of a steamboat and were able to pretend to steer it down an imaginary river.
Everyone's favourite part was seeing the in-water collection of beautiful wood boats.  You can actually walk out on an indoor dock and see a variety of classic boats that were built to perfection.  The Rolls Royces of boats float in the water and they are in original perfect condition.  We took a lot of pictures so remember to bring your camera.
The Muskoka Boat and Heritage Centre is also a great place for events like weddings and receptions. It would be a unique place and it looks over the Muskoka Wharf.  I hear it can fill up pretty fast though.
If you are looking for something to do in Muskoka that is fun, not very expensive, and informative the Muskoka Boat and Heritage Centre is the place to go.  The summer hours have just begun so you can go throughout the week.  Take a look at their website for more information (http://segwun.com/pub/muskoka-boat—heritage-centre.html)