Beaches in Ontario with Tropical Vibes
By admin Saturday, July 4, 2020
---
Summer is here and you cannot have a summer without the beach!! We were literally down on our knees praying to the beach gods that beaches would open and our prayers have been answered! Hallelujah! Okay, so now that beaches are open and that summer holiday vacation you had planned has been cancelled, lets discuss Ontario beaches.  Not just any ordinary beach, I'm talking tropical beaches with white sand, turquoise water and yes even palm trees! With Canada Day around the corner forget your passport and start planning an Ontario Staycation.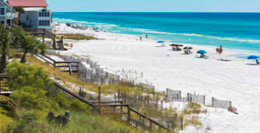 Every summer the town of Southampton transforms into the perfect beach oasis.  Only a couple hours from Toronto you will find sandy shores stretching for kilometers that border clear blue waters and sand dunes.  One unique and whimsical feature about this spot is their beach swings, that offer the perfect setting to sit and take in the famous sunsets setting against Lake Huron.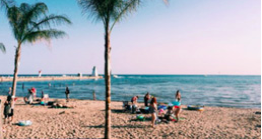 Be transported to the tropics with palm trees, clear warm water and soft shores.  Sand Hill Park is located on the North shore of Lake Erie in Port Burwell just a couple hours from Toornto.  Towering more than 100 metres above the white sandy beaches are massive sand dunes that offer incredible views to take in a panoramic sunset.  These sand dunes are actually Ontario's largest and tallest and is known as one of Ontario's natural wonders. If you have more time spend the weekend at one of the hundreds of camping sites available.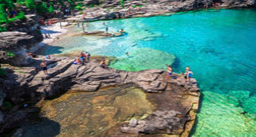 Located a four hour drive north of Toronto, in Tobermory this beach is known for its turquoise crystal clear lakes and rugged limestone coasts. A short 30 min hike through the forest will lead you to Indian Head Cove a small beach surrounded by cliffs and rocks. This is a popular area for cliff jumping.  In this area you will also find The Grotto, a sea cave that you can climb down into filled with bright blue sparkling turquoise water that looks like its glowing! Insider tip, go in September when its less busy.  Parking space is also limited and quickly fills up so use their reservation system in advance at www.reservation.pc.gc.ca or call 1-877-RESERVE.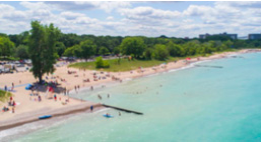 This blue flag beach located within Sarnia's Cantara Park features a kilometer of beautiful sandy beach, clear waters and fun for the whole family.  There is so much to do here besides suntan like explore the nature at Cantara Park, visit the animal farm or hit the BMX bike track, it's a great option that everyone will love.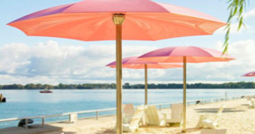 This white sand beach is an urban oasis right in downtown Toronto on Lake Ontario at Lower Jarvis.  Although you can not swim at this beach it is the perfect rest spot to sit and relax from a busy day touring the streets of Toronto.  The white sand, Muskoka chairs and perfectly placed pink umbrellas gives it an almost resort like feel.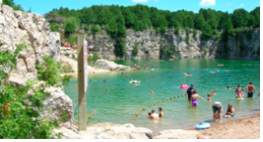 A true tropical oasis, Elora Quarry is an hour northwest of the Toronto so the perfect day trip if you live in that area.  These clear 2-acre turquoise waters are surrounded by beautiful limestone cliffs which are great for cliff jumping from the smaller 15ft cliffs and the shallow end allows safe fun in the water for the little ones. Insider tip, don't jump from the higher cliffs or you will get booted from the park and go early in the morning to snag a spot as the beach is not huge and capacity is low.
To keep these beaches open it is important to respect the social distancing rules and equally important to clean up after yourself and leave the beach clean so we can all continue to enjoy the beaches this summer.
Have a great Summer!
Natalie & Phil
https://credit-n.ru/order/kreditnye-karty-alfa-bank-cashback-card.html взять займ в екатеринбургезайм на 30 днейзайм с плохой кредитной историей самара