Sail your way around Ontario
By Natalie & Phil Thursday, September 26, 2013
---
Although much of Ontario is separated from the Atlantic Ocean by Quebec and the New England states, water-based activities are some of the most popular, and most thrilling, things for families to do when they're visiting the area. As well as the Hudson Bay to the north, and Lake Superior to the south, Ontario is bursting with bodies of water that particularly lend themselves to water sports and other water-based fun, such as the Ottawa River, Lake St. Lawrence, and Lake Simcoe. If you and your family are planning an Ontario vacation, check out these vastly different ways your can see the sights right from the water's edge:
Take a Relaxing Cruise Through the 1000 Islands

If you're traveling with older members of the family, or your family simply like to sit back and enjoy a little relaxation while on vacation, then cruising through the 1000 islands is an absolute must-do activity. Leaving from Brockville and traveling south down along the St. Lawrence River, passengers get to see some of Ontario's very best sights, in terms of contemporary sightseeing, historical sites, and places of cultural significance. One of the most fascinating places you'll see on your trip is what is said to be the world's shortest international crossing, connecting two sections of Zavikon Island, one in the United States and one in Canada, together. The bridge spans just 32 feet, and is truly an incredible sight to behold. You'll also be traveling adjacent to the waterfront trail, so there'll be plenty of opportunities for waving to walkers, cyclists, and skateboarders passing by.
Hornblower

Perhaps one of the most well known ways to see the sights of Ontario by sea is by taking a cruise on the Maid of the Mist at Niagara Falls. Maid of the Mist will be replaced by Hornblower, who took over the contract starting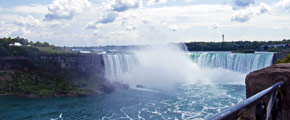 summer 2014. Boat tours are a great way to spend a vacation and they're fun for the whole family. There's not a single person who won't be watching in awe as the boat nears the Horseshoe Falls, which stand at an impressive 170 feet high <http://www.hornblower.ca>  and see as much as 90 percent of the Niagara Falls water cascading down with intense force. Hornblower has a bunch of new stuff to make the experience even better including new state-of-the-art-catamaran boats, 360-degree viewing platforms for an unobstructed viewing experience, new tours and extended operating hours & new docking and boarding facilities. There's also great views across to Buffalo, New York, and a chance to explore the Niagara Falls area, which is filled with family-friendly places such as aquariums and museums.
Canoe Down the Grand River

For families who are looking for something a bit more adventurous, yet still suitable for everyone through from the kids to the grandparents, canoeing is a good choice, and the Grand River is the place to do it.

Usually starting from Freeport, there's opportunities to sail south down towards Paris <http://www.canoeingthegrand.com>  where you can partake in cycling or hiking through Barker's Bush, or you could sail north towards Elora Gorge where the scenery is, quite simply, stunning. Pack a picnic and your fishing gear, or take a small tent and camp out for a few days to really experience the best of this natural wonder.
White Water Rafting Along the Madawaska River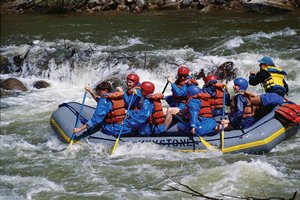 If your family is young and fit, and has a love of anything adrenaline-fuelled, then white water rafting is one of the best ways your active brood can enjoy the sights of Ontario. Even the youngest members of the family can join in, donning life jackets to ensure they stay safe during the motions of the boat amongst the wild waves. The best thing about traveling through the Madawaska River Provincial Park is that it's not particularly set up for foot traffic, so as you're sailing along, it's just you and the water. You'll also get to visit the Algonquin Provincial Park <http://www.algonquinpark.on.ca/> , where there's plenty to keep everyone entertained, such as the visitor centre where you can learn about the plants, insects, and fish that live in and around the Madawaska River.
Do Something Different

If you're planning a trip to Ontario, why do the same as everyone else? Why hire a car and spend your days stuck in freeway traffic when you could be out seeing the sights on the water, free from traffic jams, free from gas costs, and free from bored kids stuck in the back seat for hours on end. Being out on the water, in whatever form, whether it be on a relaxing cruise or a fast-paced rafting excursion, is sure to leave the whole family with happy memories they'll remember for the rest of their lives.
Written by: Melissa Taylor