12 Things to do with Kids this Fall
By Natalie & Phil Wednesday, September 6, 2017
---
School is back on and that means the weeks of sunny play days are over. But there are still plenty of warm (or warm-ish) fall weekends left to explore Ontario and find fun things to do. For hundreds of ideas, visit Summer Fun Guide. We'll get you started with 12 below.
1. Visit a pumpkin patch. Halloween is coming soon and there is nothing more fun than choosing your own pumpkin. It can sit outside your front door for a few weeks before you carve it up for trick or treaters, so wait for a nice weekend, bring your camera and pick the perfect one!
2. Check out a local museum. There are lots of amazing ones in Ontario, from kids' specialty museums to major national ones, and everything in between. This is a great activity for a not-so-nice weekend day.
3. Enjoy a fall fair. There are many fairs taking place around the province celebrating the harvest and everything agriculture. They range from very old ones in small towns like the c1868 Norwood Fall Fair, to the huge Royal Agricultural Winter Fair in Toronto.
4. Go Go-Karting! There are many places around Ontario to test our your driving skills and some of the facilities even have 2 seaters so that an adult can drive with a small child.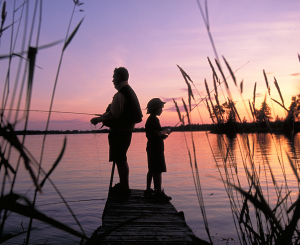 5. Fish! There is something so satisfying about reeling one in, no matter what age you are. Ontario Family Fishing has put out a learn to fish booklet which is really useful. Don't forget to make a trip one day to watch the salmon run. It's an amazing sight to see giant salmon swim through rivers, jump over rapids to head upstream so they can breed. There are several salmon festivals celebrating this including a TRCA one.
6. Pick your own apples. There are many farms in Ontario where you can buy bushels or baskets of apples, but it is wayyyy more fun to pick your own. Be prepared to hoist your child onto your back or shoulder so s/he can reach the high ones. And dinner is usually going to be delayed as small tummies are full of apples!
7. Mini Golf anyone? Mini golf is a real equalizer. Somehow, a 7 year old has an equally good chance of beating a parent as the parent does of showing the kids who is boss! It is outdoor; it is a bit active and there are no tv, computer or phone screens in sight.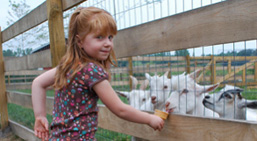 8. Talk to the animals. Visit a zoo or petting farm in Ontario. Toronto has one of the world's biggest and best, but there are several smaller zoos around the province which are sometimes a better bet for really small children as they seem a bit friendlier and less intimidating. While most zoos focus on the more exotic animals, petting farms tend to feature farm animals and allow you to get up close and personal.
9. Visit a major attraction like the CN Tower, Ripley's Aquarium, African Lion Safari, Bonnechere Caves, Fort Wellington or any of the others listed here. They are called attractions for a reason – most are popular because they are cool or different or provide a unique experience or teach you something new, or all of the above!
10. Make your way through a corn maze. Fall in Ontario brings a variety of farm activities including some amazing corn mazes which can encompass 20 acres! Some are cut in a seasonal or sports theme, but all are a super fun way to spend an afternoon.
11. Take a train ride. Some of the antique or heritage trains in Ontario run special fall colours train rides and they are absolutely gorgeous! The kids will also enjoy some of the themed train rides, such as Halloween rides where costumes are welcome. Book early as the trains dont run as regularly after the busy summer season and they sell out fast!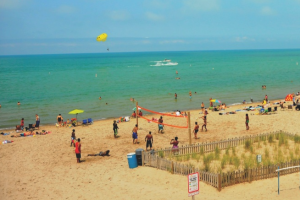 12. Go to a park or beach. Just because it isn't hot doesn't mean you can't still enjoy building sand castles or playing beach volleyball at the beach or going for a walk or hike in one of Ontario's parks, conservation areas or gardens. It is especially important once the weather cools down for kids to get outside to burn off some energy and doing it in beautiful scenery is good for the adult too!
Autumn is coming, and while we are sad to see the end of summer, there is still much to enjoy with your kids in Ontario in the Fall!
Find more Things to do & Places to stay in Ontario.
Shari & Elisa, Publishers – Summer Fun Guide