6 One of a kind picnic spots in Ontario
By admin Sunday, May 17, 2020
---
Although at this time we are still indefinitely practicing social distancing and we are still being encouraged to stay home as much as possible, the province has announced that opening some outdoor spaces will be part of the first phase to reopen the province. With the warm weather upon us, a simple gathering with family and friends that so many of us took for granted not too long ago all of a sudden feels like a special occasion and something to fondly look forward to. Although some parks and business's will start to re-open, social distancing will be the new norm for a while and something we must all keep in mind when out and about this Summer. For now we do not know exactly when business's will reopen and to what capacity, but for when the time comes, we have compiled a list of 6 gorgeous and unique picnic areas to lay out a blanket and enjoy some epic views. Please make sure to check their websites before attending for up to date hours of operation and COVID precautions and for those on the list that don't open this summer, put it on your list for next year!
Royal Botanical Garden (GTA)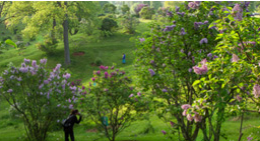 The Royal Botanical Gardens is the largest botanical garden in Canada, consisting of 2700 acres of stunning gardens & sanctuaries and home to the world's largest collection of lilacs. Enjoy all  5 cultivated garden areas open year-round and stroll along 27kms of scenic walking trails to find the perfect spot to enjoy a picnic while spotting beautiful art sculptures, rare species of flora & migrating birds along the way.   Although they do not allow BBQ's, you may bring outside food to enjoy at the many different themed gardens all with amazing views, vistas and photo opportunities. Admission prices do apply and select special events such as their Garden Music Series do not permit outside food so check their website first for their event calendar when planning your day.
Rideau Hall (Ottawa)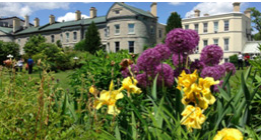 The historic grounds of Rideau Hall offer a great opportunity to mix history with a beautiful landscape for a picnic.  The grounds are made up of lush green lawns, gardens, forest and walking paths.  There are more than 10,000 trees, some of which are ceremonial trees planted by heads of State and other dignitaries, such as John F Kennedy. Visit the totem pole, sit and enjoy your picnic in the rose garden.  Reservations can be made for a free tour of the residence's State rooms. Rideau Hall is the official residence of the governor general, the representative of the Queen in Canada. The tour also starts off with a fascinating look through their Dare to Dream exhibition showcasing breathtaking photographs of Canada taken from space and items from Governor General Payette's personal collection.
Pelee Island Winery Pavilion (SW)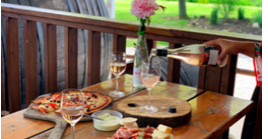 At the southernmost point of Canada, you'll find 10,000 acres of picturesque vineyards, farms, beaches, parks and forests. This option is for the wine connoisseur's and involves taking a ferry so it's best to plan for a day trip, so you have enough time to enjoy it all. If your visiting on a Saturday in the Summer, drop by the Pelee Island Farmers Market in the Quarry before making your way to the Pelee Island Winery. This is the perfect spot to enjoy a picnic lunch in their wine garden which obviously involves sipping wine as you take in the incredible views of the vineyards, Lake Erie and enjoy the live entertainment on weekend afternoons. You can choose to BBQ your own food but if you didn't bring a picnic don't fret, they sell uncooked BBQ items such as burgers, sausages and kabobs as well as a variety of pre-made picnic salads and of course cheese plates that will be perfectly paired with your wine. There are plenty of picnic tables to choose from and since you're on-island time stay and enjoy a wine tour and learn about Pelee Island, it's history and its connection to wine making.
Kakabeka Falls Provincial Park (Northern ON)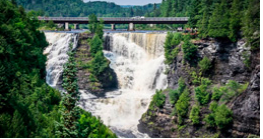 Also known as "Niagara of the North," Kakabeka Falls is the second highest waterfall in Ontario with year round access for viewing and magnificent picnic spots showcasing a thundering cascade of water that drops 40 metres over sheer cliffs into a deep gorge. Get an up close view of the falls and gorge from the boardwalk that wraps around the top of the falls and with 6 hiking trials ranging from easy to strenuous there is an adventure that awaits for all skill levels. On those hot summer days make your way to a small beach located in a sheltered area up river of the falls on the Kaministiquia River for swimming and more picnic spots and explore the 1.6 million year old fossils at the bottom of the falls.
Scarborough Bluffs (GTA)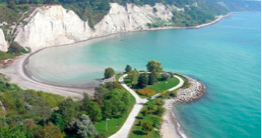 One of Toronto's best kept secrets, Scarborough Bluffs is a picturesque spot with beautiful white 100 meter cliffs that border lake Ontario, clear blue water, beautiful views, and a wide sandy beach perfect for a beach picnic or a BBQ at Bluffers Park. Take a dip in the cool waters (blue flag by the way) and Hike the 4.7 km Scarborough Bluffs Trail, a very easy loop from Bluffer's beach to Bluffer's park. Here you can spend the rest of the day soaking up the sun watching the sun melt into night then pitch a tent and spend the entire night stargazing. Accessing the bluffs is best done by car and although Bluffer's Park at the bottom of Brimley Road provides access to the base of the Bluffs, Cathedral Bluffs Lookout is where it's at for breathtaking views from the top. Honestly this is a place where you will wonder if you are still in Toronto!
 Niagara Glen Gorge (Niagara Region)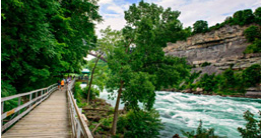 Although the perfect picnic spot can be found right in the area around the entrance to the Niagara Glen Gorge park, for the more adventurous picnicker a hike along two-and-a-half miles of stunning paths that wind through this pristine pocket of Carolinian Forest, past prehistoric geological formations, wild flora and fauna will lead you deep into the Niagara Gorge, where you'll find epic picnic spots at practically every turn.  After your picnic make sure to check out the self-guided tour along the White Water Walk where you can feel the power of the class 6 white water rapids from their river edge viewing platforms.
Don't forget to check with all attractions and parks before you attend to get updated COVID-19 hours precautions and hours of operation.
Natalie & Phil