Fireworks and Illumination At Niagara Falls – Things To Do In Ontario
By Karl Friday, November 30, 2012
---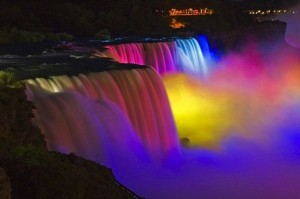 It's not often that you get a chance to see fireworks during the winter, unless of course you visit the CAA Winter Festival Of Lights and watch the Fireworks Over The Falls. If you haven't been there ever, or if it has been a few years since you have had the chance to go, it is something really fun do to in the Niagara Falls, Ontario area.
I used to go see the fireworks and the millions of lights that illuminated Niagara Falls, every year.  Slowly I began to go more infrequently and each year got busier and busier around Christmas and the holidays. This year I decided I was going to get back to the tradition that I, and over 1 million other people from around the world love so much, the CAA Winter Festival of Lights.
It is Canada's biggest illumination festival and includes all sorts of activities and events that visitors can participate in. The majority of the events are free with donations appreciated. It runs from the beginning of November to the end of January.
I decided to go last weekend and I brought a group of about 12 with me. Our group consisted of friends and family and I'm not going to lie it was hard to coordinate that many people to go on the same day but we pulled it off.
One of the coolest places, and one of my all time favorites, is the TD Rink At The Brink and that is where we all started out. The Rink At The Brink is an open air, outdoor ice skating rink that is located at the "brink" of the Horseshoe Falls. I have been playing hockey since I was born and so have most of my family and friends so we all looked forward to skating around the rink a little.
The rink isn't huge but it is big enough and the 10 out of the 12 of us who decided to skate, could easily maneuver around. There is music and at night there are flashing lights. It has a great view over the falls, which you can't help but stop to appreciate every few laps. We thought about coming back to watch the fireworks but decided it would be too difficult to have everyone on the ice trying to watch together. We all had a great time and I made a promise to myself to get out on the ice more often.
We didn't all bring skates so about half of us rented our skates there. So don't worry if you forget your skates or don't want to lug them with you to the rink they have you covered.
We left the rink and started to head down along the Falls and watched as they slowly changed color. It is always amazing to see such a natural wonder like Niagara Falls light up like that. Not only are the Falls lit up with beautiful colors you are surrounded by millions of tree and ground lights that make it look like a Christmas wonderland.
We ended the night with the grand finale, the fireworks spectacular over Niagara Falls. I had forgot how awesome they were and the little ones who were with us got a big kick out of it. The fireworks are every Friday night from November 9th to January 25th so you have plenty of time to get out and see them. Don't be like me and put it off year after year because it really is worth seeing and experiencing with friends and family.
Make sure to get your friends and family together for the CAA Winter Festival of Lights in Niagara Falls, Ontario.  You will all have so much fun and it could become a tradition for your family too!
For more information on the Illumination, Fireworks, and TD Rink At The Brink you can visit www.wfol.com or check out Summer Fun Guide for info on this and all of the other exciting events and things to do around Ontario.