Haunt Manor Hayrides and Haunted Houses The Scariest Place In Ontario
By Karl Monday, October 15, 2012
---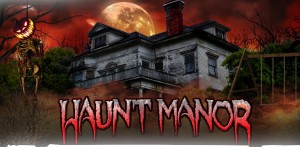 The Halloween celebration seems to start earlier every year these days. My Nephew had already picked out his zombie costume before the leaves had started turning colors. Don't get me wrong, I love Halloween, and my Nephew's costume was awesome but it isn't even mid October and already haunted houses and parties are in full swing to celebrate what has always been one of my favorite times of year.
I had fallen asleep on the couch watching some terrible television show when I heard pounding and scratching at my door. I rubbed my eyes and sat up wondering who was trying to break my door down. When I looked out the window I saw my Sister's car in the driveway and a zombie at my door. My sister was hiding behind a bush right below the window giggling and trying to keep quiet while my Nephew groaned and slapped the door.
My family had always loved Halloween and as kids we used to love the week leading up to the 31st when we got to decorate and plan our scare tactics for the trick-or-treaters. The excitement must have been passed on to my Nephew. I opened the door and started a high-pitched scream like a female victim in a horror movie. Then I jumped down and grabbed my sister who was laughing uncontrollably at the whole situation.
They came inside and I poured us some apple cider that I had picked up at Chudleigh's Apple Farm a couple weeks back. Right away my Nephew asks if we could go to a haunted house the next night. I of course agreed without hesitation and the next night the three of us were off to Ontario's #1 haunted attraction Haunt Manor Hayrides and Haunted Houses near Niagara Falls.
I had heard about other haunted houses in the Niagara area but most had seemed kind of touristy and lame. A friend of mine had recommended Haunt Manor for years and I had never been able to make it or had never had someone as willing to go with me as I did now.
We arrived at Haunted Manor just after dark and you could feel the excitement as we parked. It is open Friday and Saturdays 7-11 and 7-10 on Sundays. It was chilly but we were ready to get our socks scared off.
Haunted Manor has 3 attractions all at the same location. There is the Sinister Woods Hayride, The Crypt of Darkness, and Chambers of Terror. You can choose to only do the hayride or the haunted houses and save a little money but the real deal is choosing the whole package.
We started off on the Sinister Woods Hayride and loved every second of it. The special fx, make-up, and costumes could all have been out of a Hollywood movie. I won't give too much away but it was definitely one of the scariest hayrides I have ever been on and I have been on a lot of haunted hayrides. Next up we went to the Crypt of Darkness, which according to the website had been updated and made scarier this year. While it was scary it was a little like every other haunted house and you could see a lot of the scares coming from a mile away. It was still a blast and we still had some great scream-laughs, which are when you scream and then uncontrollably laugh afterwards. Last but not least we went to Haunt Manor, which is the new haunted house where you are taken back in time and walk through an old Victorian home that has been haunted by a family since the late 1700s. This lived up to the hype and was as scary as any haunted house you could go to. They did a great job of including the visitors in the story and made it unbelievably scary.
We stopped by the CarnEvil Sideshow and watched Voodoo Ray and Chewy the Clown do some weird stuff that was semi entertaining. After words we grabbed some treats at The Monster Midway Café to hold us over on the ride home.
All three of us had a great time and for the first time in a long time the haunted house experience lived up to the hype. Haunt Manor Hayrides and Haunted Houses had earned its Ontario's #1 haunted attraction status. It is open every weekend until Halloween so take the kids and go have some scary fun!
For more information about Haunt Manor you can visit their website www.hauntmanor.com or check out Summer Fun Guide for some great info.