Georgian Bay Airways
By Sarah Friday, June 8, 2012
---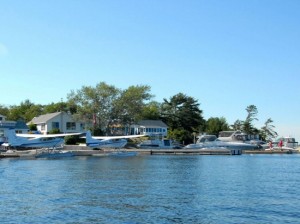 When I was younger I used to think that seaplanes were just myths.  My sister would tell me that there was a plane that could land and take off from the water but I just assumed she was lying to me, like when she told me she had ridden a unicorn.  I asked my parents one day if seaplanes were real and they backed up my sister's story. I have been obsessed with seaplanes ever since.
Being from Ontario I have had a lot of chances to fly in seaplanes and have enjoyed them all and recently I took a trip to Northern Ontario to visit Georgian Bay Airways and thought it would be just like all of the others, boy was I wrong.
I had been hearing about all sorts of things to do in Northern Ontario but what had stuck out in my mind had been the seaplane trips that Georgian Bay Airways offered from Parry Sound Harbour to the World Famous Henry's Fish Restaurant on Frying Pan Island in Sans Souci.  Henry's Fish Restaurant is only accessible by plane or boat so it makes going there that much better.
The flights to and from Henry's are called "Fly & Dine" flights and I was excited to do both.  We left from Georgian Bay Airways' home base in Parry Sound Harbour, flew directly to Henry's and got there during the lunch rush.  It wasn't your usual lunch rush either.  As we approached I saw at least 5 other seaplanes taking off or landing near the world famous restaurant.  There were also other small boats and a few larger yachts docked in the calm waters surrounding the island.
We were lucky enough to get a seat overlooking the seaplanes landing and taking off in the Georgian Bay.  We were also lucky enough to eat some of the tastiest and freshest fish and chips I have ever had. Henry's Fish Restaurant is famous for its pickerel and trust me it is well deserved.
We left full and happy and it was a little difficult getting back into the plane.  The flight back was as beautiful as the flight there.  We passed over some of the most breath taking scenery in Northern Ontario and if we had more time we probably would have taken the pilot up on his offer to take us on a site seeing tour around the Bay.  Make sure to bring your camera whether you are just going to Henry's or taking a longer flight.
Like I said before I had been on a good amount of seaplanes and this trip had be the most memorable.  The scenery and experience put it above all of the other flights I had taken.
If you are looking for things to do in Ontario to celebrate a special occasion like an anniversary or birthday or just want to have a great lunch or dinner make sure to check out Georgian Airways' "Fly & Dine" flights.