ONTARIO HIKES WITH THE BEST VIEWS
By Natalie & Phil Wednesday, September 1, 2021
---
It's no secret that Ontario has incredible natural beauty that draws in visitors from all over the world.  If you're lucky enough to live here, you're never far from a breathtaking view to give you a little bit of perspective.  Nothing is as peaceful or profound as feasting your eyes upon a remarkable view surrounded by nature.  We've compiled a list of hikes with the best views in Ontario.  Some are only a short easy hike while some require a bit more of a time commitment and skill level.  If you're wondering when you'll be able to fit in a hike this summer, we do have a long weekend coming up on September 6th (Labour Day).  Pack a lunch, pack your camera, and make a day trip out of it!
Lion's Head Lookout, Bruce Peninsula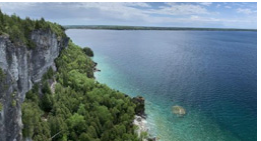 This view will have you feeling like you're in another country; a tropical one.  Imagine staring out onto crystal clear turquoise waters from a 200-foot cliff.  Lion's Head is located next to Tobermory on the beautiful Bruce Peninsula.  There are a few choices of trails to take in the Lion's Head Trail system, totaling about 18 km.  You don't need to hike the whole thing for a great view as there are plenty of shorter day hikes and tons of equally as awesome lookouts over the water and cliffs.  The area is also a hot spot for rock climbers so keep an eye out while you're taking in the view!
Dundas Peak, Dundas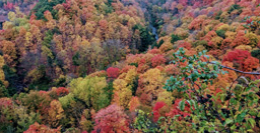 Dundas Peak in Dundas, Ontario is a favourite lookout point, especially during the fall season when the leaves are changing colours.  The hike to Dundas Peak is easy and short; a 1.8km loop.  During that hike you'll pass the beautiful gorge where Tew Falls is (a 52m horseshoe waterfall) with a viewing platform.  Dundas Peak offers a truly stunning view at the mouth of Spencer Gorge and if the sky is clear, you can see all the way to Hamilton Harbour, Dundas, and Ancaster.  Because of the spectacular view, you must reserve a spot to visit the park with Hamilton Conservation Authority.
The Crack, Killarney Provincial Park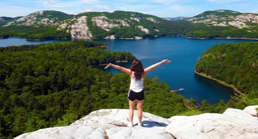 The Crack trail is a 6-kilometer round-trip moderately difficult hike in Killarney Provincial Park that leads to one of the most incredible views in Ontario.  The view from the top overlooks a lake, the Boreal Forest, and a rocky landscape among the La Cloche Mountain range, making it a quintessential Canadian landscape.  The hike takes about 4 hours and at 'The Crack' there is a sharp incline towards the end that requires a base level of fitness to scramble and climb the rocks.  This view is incredible all year round, but of course is extra special during the fall time as the leaves change colour. Killarney Outfitters can outfit hikers, campers, kayakers, canoeists and anything else needed to prepare you for a stunning exploration to Killarney.
Top of the Giant Trail, Sleeping Giant Provincial Park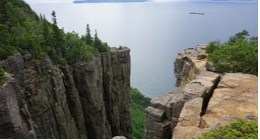 The Top of the Giant Trail in Sleeping Giant Provincial Park is a difficult 21 km hike that has serious payouts if you accept the challenge.  If you decide to take on the trail, you'll be paid with a stunning open sightline east and west of the Sibley Peninsula on the Northwestern shoreline of Lake Superior.  This trail will take most hikers 6-10 hours to complete and should only be attempted by experienced hikers.  Camping is also available at Sleeping Giant Provincial Park and there are tons of trails in the park of varying difficulty.  The view from the Top of The Giant is a reward that is worth the work!
White River Suspension Trail, Pukaskwa National Park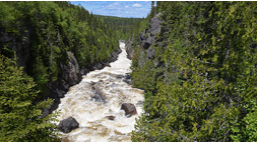 For those of you looking for a challenging and beautiful hike, there is an 18-kilometer hike in Pukaskwa National Park in Northern Ontario that leads to a breathtaking view.  For those of you who just gasped while reading this, good news – you can camp in the park to split it up!  Venture through the Canadian Shield on the White River Suspension Bridge Trail ending up at – you guessed it, a suspension bridge. (a 23-metre suspension bridge to be exact).  The view from the bridge looks out over the mighty Chigamiwinigum Falls and White River from 75 feet above.  This hike is only for experienced hikers.
Scarborough Bluffs Trail, Bluffer's Park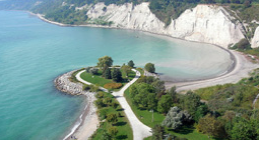 One of Ontario's most beautiful hikes just so happens to be in its biggest city, Toronto.  It seems improbable that such an incredible view is just outside of downtown Toronto, but the Scarborough Bluffs Trail offers unobstructed views of Lake Ontario and the sheer white cliffs of Scarborough Bluffs.  Dog friendly and accessible to all, this easy 6.8 km hike tends to be busy because of its proximity to the big city.  After your hike why not head over to the nearby beach for a beach day right in the city.  What a perfect city daycation!
Hiking is not only great for your health but it is also amazing for your soul! Being in nature is our best medicine.  Double that up with great company and you are set to have the perfect day!
Natalie & Phil