10 things to discover in Hamilton/Burlington
By Natalie & Phil Wednesday, November 15, 2017
---
Burlington is only about 45-50 minutes from downtown Toronto and Hamilton a few minutes further, so if you are looking to venture along Lake Ontario, away from Toronto, there is loads to see in both places.  And lots more ideas here too!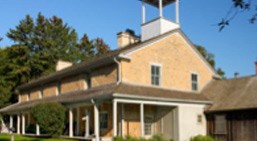 Burlington is tucked between Lake Ontario & the Niagara Escarpment in a picturesque location. It has been ranked the best city of its size to live in Canada for 5 years running, partially because it has everything from outdoor adventure, to arts & culture, to festivals & events, shopping & dining. If you are looking for indoor activities, the Museums of Burlington include two of the city's heritage destinations, the Ireland House Museum and the Joseph Brant Museum and both have tours, events, activities and more.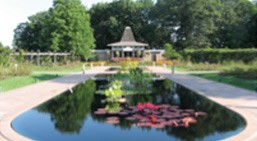 Prefer to do your exploring outdoors? Royal Botanical Gardens is the largest botanical garden in Canada with 2700 acres of gardens & sanctuaries & 27 kms of scenic walking trails. There are 5 cultivated garden areas plus rare species of flora & migrating birds. Andrews Charter is another option. Not only do you get to see a lot from the waters of the Port Credit River, but you might walk away with some BIG fish!  Bike along the 23 km. Waterfront trail or hike the Bruce Trail, Canada's oldest and longest marked footpath with the only continuous public access to the Niagara Escarpment, a UNESCO World Biosphere Reserve.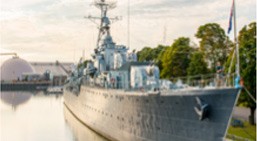 Because some of Canada's most important historical moments occurred in the region, there is loads of history and heritage to discover. Visit the HMCS Haida National Historic Site at Pier 9 to tour Canada's most decorated warship, a Tribal class destroyer that served in WWII, the Korean Conflict and the Cold War.  Or check out the Hamilton Civic Museums which include 5 National Historic Sites, a children's museum, community museums & more. Don't forget to stop in at the Art Gallery of Hamilton, which is Ontario's 3rd largest public art gallery with more than 10,000 works.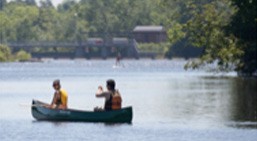 The Niagara Escarpment, Bruce Trail & Grand River wind through The Heart of Ontario, as the Hamilton Halton Brant area has branded itself, creating a perfect setting for outdoor adventure. African Lion Safari lets you go "On Safari™" and get close to >1,000 exotic birds and animals. It re-opens in May. Hamiltonian Tour is a 45 minute narrated tour of Hamilton Harbour that lets you appreciate the city from the water. Hamilton Conservation Authority has 12 traditional conservation areas around Hamilton region including Christie Lake, Devil's Punchbowl, Spencer Gorge/Webster Falls plus Westfield Heritage Village and Wild Waterworks.
We're fortunate enough to be able to explore National Historic Sites, museums, culture, outdoor adventures and vibrant cities in the Hamilton/Burlington area. Let us know what you like best.
Enjoy!
Find more Things to do & Places to stay in Ontario.
Shari & Elisa, Publishers – Summer Fun Guide