6 fun things to do in Ontario for the daredevil in you!
By Natalie & Phil Tuesday, September 30, 2014
---
If you're the adventurous type, now is the perfect time to try your hand at an exciting new activity.  As the summer draws to a close, you could celebrate the end of the season by soaring through the trees on a zipline, plunging towards the ground on a bungee or testing your skill on whitewater rapids.  Whatever your taste, we have an adventure for you!
Ziplining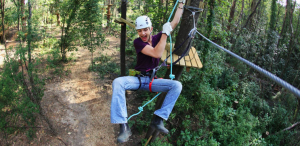 Have you ever wanted to soar through the trees and experience incredible views from high above the ground?  If so, ziplining might be just your thing. There are many wonderful ziplining places in Ontario.  Check out Long Point Eco-Adventures for ziplining, kayak fishing & other exciting adventures.  Horseshoe Resort Adventure Park has ziplining, obstacle course, dirt bike track & much more.  Scenic Caves Nature Adventures has the unique Thunderbird Twin Zipline where 2 riders can ride side by side & control their own speed!  Treetop Eco-Adventure Park has courses designed for all skill levels.  And – check out the multiple locations for Treetop Trekking Zipline Aerial Parks.
Hot Air Balloon rides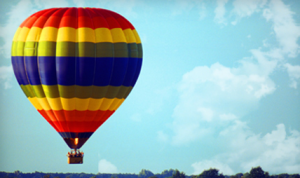 Sometimes if you look up on a beautiful summer day, you can see a gorgeous hot air balloon soaring gracefully through the sky. Hot air balloon rides are available all across Ontario. Here are a few options: Sundance Balloons, Air Display & Ontario Hot Air Balloon Rides all have multiple locations throughout Ontario. Skyworks Balloons is a Toronto based full service company. UPTUIT Balloon Inc. is also located in the GTA. Skyward Balloons is based in Southwestern Ontario
Bungee Jumping
If you're not afraid of heights (as I am!) and you're looking for a real rush, then bungee jumping might be your calling. Ontario is home to the Great Canadian Bungee (Ottawa).  At 200 feet, this is Canada's highest bungee jump.  In Eastern Ontario, Wilderness Tours Adventure Resort has Ontario's only bungee tower 150 feet over deep clean water.  If the kids want to get into the bungee jumping action, Safari Niagara has the Elastoblast ride and Canada's Wonderland has Launch Pad, a bungee trampoline thrill.
Hang Gliding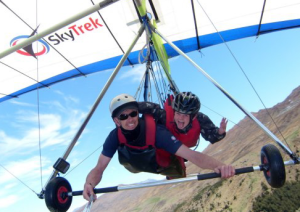 If you've ever wanted to be Superman, hang gliding might be the closest you can come to soaring through the skies like the infamous superhero. Check out Instinct Windsports. They have hang gliding & paragliding lessons and their aim is to make free flying accessible to everyone. High Perspective offers year round hang gliding, just in case you don't get a chance to get up in the sky this summer. You can also organize your hang gliding lessohttp://www.summerfunguide.ca/blog/wp-admin/post-new.phpAre you inspired to try a new & exciting outdoor adventure?  I know I am!  With the last of
the summer sun approaching, I know the time is ripe to enjoy the outdoors & all that beautiful Ontario to offer!ns through Adventure Seeker Tours. Wherever you go, it is sure to be an experience of a lifetime. This would be a great place to shoot a GoPro video!
Whitewater Rafting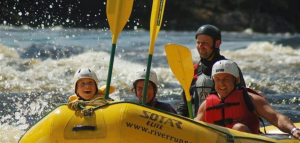 If you prefer to get your thrills from a water adventure, then whitewater rafting is a great activity. No experience needed. Most rafting places offer trips for all ages and any level. The Ottawa Valley is known as the "Whitewater Capital of Canada" and has some of the best choices for whitewater rafting.  Check out Madawaska River Family Rafting, RiverRun Rafting and Wilderness Tours Rafting & Kayaking.  All tour companies have several options for your whitewater adventure. You can choose a gentle excursion, perfect for young families & beginners, or get your adrenaline rush on a high intensity ride, a great option for the serious thrill seeker!
Unique Ontario Adventures
And just in case we haven't given you enough options for unique adventures in the sky, here are a few more ideas.  How about a vintage open cockpit biplane ride with Central Aviation?  Or you can tour the beautiful 1000 Islands in a helicopter with 1000 Islands Helicopter Tours –  they offer 3 unique tours & the views are amazing!  Cameron Air Sightseeing and Golf Tours will fly you to your destination or on a private tour of your area – on a floatplane!  Georgian Bay Airways Floatplane Tours has many unique sightseeing tours for you to choose from.
Are you inspired to try a new & exciting outdoor adventure?  I know I am!  With the last of
the summer sun approaching, I know the time is ripe to enjoy the outdoors & all that beautiful Ontario to offer!
Michelle Brandes,  SFG newsletter editor,