6 Halloween Attractions in Ontario
By Natalie & Phil Friday, November 15, 2019
---
Its no surprise why Halloween is loved by many.  We all get to take a break from reality, have some fun and dress up as our favorite villain or character.  But there is another part of Halloween that is not only my favorite but is not for the faint of heart. Today, with the advancement in special effects, Haunted Houses and Halloween Attractions have reached a whole new level of SCARY! If you dare, here are 6 places in Ontario that are guaranteed to scare the bejesus out of you.
Ottawa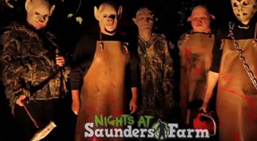 Ottawa may just have the scariest Halloween and Haunted House experience in Ontario.  Scattered across 100 acres, Fright Fest at Saunders Farm features 5 Fright Sites- 4 large Haunts and a graveyard scare zone.  While you're there, don't miss the award-winning Haunted Hayride, the Barn of Terror, The Coven, Circus of the Macabre and the extreme haunt – Shambles. This famous farm has had over a million guests who have come from all over only to run home after screaming in fear!  Other attractions include original Live shows, Tipsy Tombstone tavern, Gathering of the Ghouls street theatre, Jumping Pillows, Buried Alive Coffin and Zombie Paintball. If you work up an appetite from all that screaming, take the edge off with one of their delicious BeaverTails or visit the Farmers' Table Walk-up restaurant.
Southwestern Ontario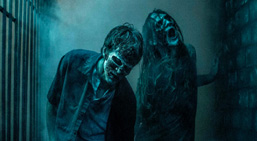 Every Halloween, Canada's Wonderland is transformed into a playground of fear. Previously known as Fear Fest, Halloween Haunt takes you on a rollercoaster of thrills and chills. When darkness falls, there will be no way out of the horrifying haunted mazes. You will be so scared, your mother will hear your screams all the way home from the park.  With spine-chilling haunted houses and attractions, hundreds of terrifying monsters and a gruesome collection of live shows, you will be in for a fully loaded evening that is guaranteed to make all your nightmares come true.
GTA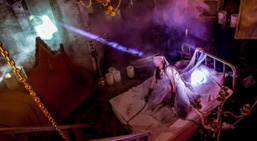 There's already something creepy about old dark castles and every Halloween Casa Loma opens up its darkest corners of the castle to the public.  Located in the lower levels of the castle, Legends of Horror is a self-guided 2 km walking tour that takes you on an immersive theatrical journey of all of the classic horror figures.  Winding its way through the castle tunnels, this one hour tour will take you from one haunting scene to the next, creating the feeling that you all-of-a-sudden woke up as the main character in one of the scariest horror films of all time!
Northern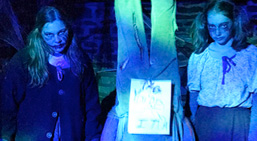 Journey through the haunting remains of a helpless village that has been left in a gruesome deathly state.  Haunted Fort Night in Thunder Bay tells the tale of this unfortunate town whose fate ended in a bloody struggle littered with skeleton bones.  Open Thursday – Sunday evenings, tour starts at 7pm nightly.
Eastern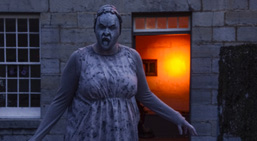 Follow in the terrifying footsteps of a little girl who stumbles across a rural town where human medical testing and a chemical spill has left this town crawling with deformed creatures.  If you think you're brave enough to enter the narrow hallways and tunnels of Fort Henry after dark this October, then get ready for your worst nightmare. Back for its 10th season, Fort Fright is the annual scare fest that turns Kingston's 18th-century garrison and National Historic Site into one of the scariest Halloween attractions in Ontario
Central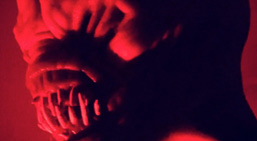 Head to Brampton to experience one of the most horrifying horror mazes in Ontario.  Grimm Grounds is a large maze with a French Revolution/demon theme. Incorporating theatrical lighting/Fx, incredible sound, realistic props/sets & live scare actor's, this Halloween attraction is sure to leave you feeling creeped right out!
However you choose to spend your Halloween we wish you a safe and fun experience.
Enjoy!
Phil & Natalie
https://credit-n.ru/order/zaim-moneykite.html моментальный займ на телефонзайм капуста онлайнзайм на счет банка