6 Natural & Man-made Outdoor Attractions in Ontario
By Natalie & Phil Thursday, August 24, 2017
---
Summer is coming to a close, so we want to take every possible opportunity to be outside to enjoy the last warm and long days. This long weekend, why not visit some of Ontario's outdoor attractions, from natural wonders to man-made ones? And have a great, safe long weekend!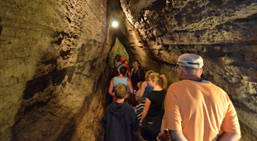 This Family-Owned and-Operated Site has stalactites hanging from the ceiling & loads of fossils of sea creatures alive before the Dinosaur age. Learn how caves form, how stalactites grow, about small brown bats and hibernation and see fossils from the Ordovician time period.
In UNESCO biosphere reserves, people share a way of living with nature. The reserves encourage the sharing of scientific, Indigenous & local knowledge with the goal of examining new ways to live sustainably. Of the 669 biospheres worldwide, 3 are in Ontario – Georgian Bay, Frontenac Arch & Long Point. Visit them to enjoy their hiking trails, unique landscapes & views.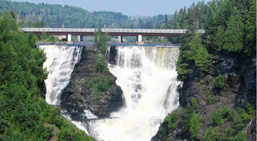 While Niagara Falls is the biggest, it is far from the only waterfall in Ontario. From Bridal Veil Falls on Manitoulin Island to the majestic Kakabeka Falls (2nd highest in Ontario), there are many others to gawk at. Did you know that Hamilton is the Waterfall Capital of the World? With > 100 waterfalls, it has the largest number of waterfalls of any urban area of its size. Grey County has a Waterfalls Tour to see its 8 waterfalls in Owen Sound & Beaver Valley.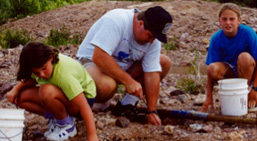 Take a guided or self-guided tour at the largest amethyst deposit in Canada, which was discovered in 1955 when building a road. Located 60 km E of Thunder Bay, the mine has produced continuously since 1960. Visit the large digging area, which is open to the public, that contains 20% usable amethyst to "pick your own" amethysts.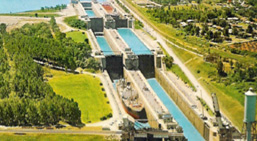 This may be a man-made outdoor wonder but it is a wonder all the same!  The Welland Canal is a ship canal which connects Lake Ontario and Lake Erie, enabling ships to ascend and descend the Niagara Escarpment and bypass Niagara Falls. That why they say that Niagara's Twin Flight Locks is where "Ships Climb the Mountain" along the Welland Canal.  You can't imagine the sight of a massive ship passing just a few feet away!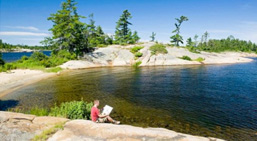 This Park's glacier-scraped rock & wind-swept pines inspired the Group of 7 and will inspire you too! It is the world's largest freshwater archipelago and is home to a boat-access nature preserve. With the Parks Canada 2017 Discovery Pass, you can get free admission to this park and all the others to celebrate Canada 150.  Cycle, camp, swim, boat or hike to explore.
These attractions are all world-class. Visitors come from all over to see them. Since they are already in our own backyard, they are well worth a trip to see and explore! Let us know which ones are YOUR favourites.
Enjoy!
Find more Things to do & Places to stay in Ontario.
Shari & Elisa, Publishers – Summer Fun Guide