6 ONE OF A KIND ACCOMMODATIONS
By admin Tuesday, August 18, 2020
---
Long weekend is coming up! What to do, what to do? You may have a long weekend tradition already or maybe you're looking for something a little different this year. We sometimes forget that unique and unforgettable experiences can be found right in our own backyards. Long weekend or not, weekend getaways are a popular choice for many during the summer months and finding an out of the ordinary accommodation option can alone be the main attraction of the weekend! From family vacations, romantic getaways to an adults only experience with friends, these 6 options will not only provide you with some major photo ops but could also possibly check off some boxes on your bucket list!
Sleep with the Wolves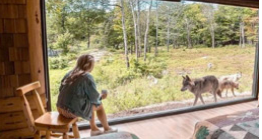 Park Omega offers a truly unique accommodation experience that allows you to come face to face with a pack of gray wolves! Perfect for a stay with family or friends, they offer 3 different types of accommodations from a spacious log lodge, a log chalet and a luxurious wolf Cabin, all of which have panoramic windows where you can safetly observe these incredible canines in their natural habitat.  The parc is also home to other wildlife including moose, bears, elk & deer.  You can enjoy feeding the animals on a 12k drive through safari and enjoy the nature and natural setting on one of their hiking trails.
All aboard!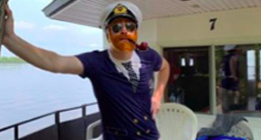 Put on your captains' hat and explore the Trent Seven Waterway, one of Canada's most spectacular waterways and historic sites. Happy Days House Boats offers an adventure for families, friends & groups. Navigate world-famous locks, explore secluded islands, fish, swim, stargaze & relax. Dock in a quaint town or village and go ashore to hike & bike, then enjoy a waterfront patio. The adventure is yours to create as you are in full control.  A boat license is required for this nautical accommodation experience, but full training is provided before you set out.
Tree houses aren't just for kids!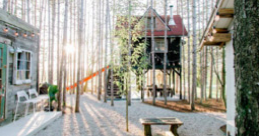 Play out your childhood fantasy at this adult only boutique treehouse retreat! This is not like the treehouses you grew up playing in though, this one comes with a private pool, hammocks, a poolside fireplace and of course a stunning interior design with all the perfect little whimsical touches .  Located 2 hrs NW of Toronto and situated on 100 acres of forest and countryside this is the perfect little getaway to relax and unwind in nature with a group of friends or a romantic weekend for two.  Although there is a waiting list for 2020 bookings it's worth a mention as a place like this is worth waiting for!
Sleep in a church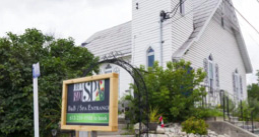 Circa 1894 B&B and Day Spa is a Bed & Breakfast/Day Spa located in a former United Church in Watson's Corner. Although at one point this was a church, it is far from the traditional church it once was.  Today visitors can enjoy the original rustic architecture that has been transformed into cute little rooms complete with a solar powered spa and Finnish-style sauna.  Guests also have the option to glamp in a stylish 27' Golden Falcon RV which sleeps up to 4 people and has its own private patio area.
Glamping at its best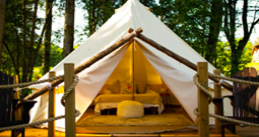 Want to camp and have a soaker tub too? Done! It's called glamping and Whispering Springs knows how to do it right. Their Safari tents feature king-sized beds, an in-tent washroom, electricity, mini fridge, mood lighting, luxurious linens, towels and robes, all with stunning views of the spring-fed ponds and beautiful wilderness.  It is definitely a new way of experiencing the great outdoors without losing the comfort of a hotel.  Also available with the same natural settings are their bohemian-inspired Bell Tents that have a shared BBQ, eating area and washrooms. Great for groups of friends and bachelorette parties.
 Be the only guest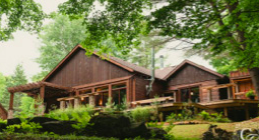 A romantic option for two or a weekend getaway with your bestie, at Black River Retreat located in Tweed ON, you will be the only guest on the entire property! Talk about VIP service! This would be the perfect option if you are celebrating a special occasion as you are guaranteed to be pampered with privacy and luxury.  Enjoy the entire property to yourself and cozy up with a crackling stone fireplace and huge log bed.  Explore the beautiful forest trails, kayak the tranquil Black river, enjoy a gourmet, four-course dinner then unwind with a glass of wine under the stars in the cedar hot tub.  This is truly the perfect escape for two that is guaranteed to leave you feeling like royalty!
Make you next weekend getaway one to remember! For a complete list of accommodations check our online directory under a region near you.
Have a great summer!
Natalie & Phil