6 ROAD TRIPS LESS THAN 2 HOURS FROM TORONTO
By Natalie & Phil Monday, May 31, 2021
---
We're almost there! The end of the current Ontario-wide lockdown is in sight, so we've put a list together of cool destinations that are within a 2-hour drive of Toronto for you. Ontario is filled with amazing and unique places to visit, and lucky for people from Toronto – much of them are only a few hours' drive away.  When you're writing up your Summer 2021 post-lockdown bucket list make sure to include some of these Ontario gems.
Eastern Ontario – Prince Edward County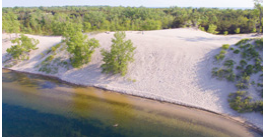 Eastern Ontario is full of incredibly beautiful places, and so much to do. Places like Prince Edward County have been blowing up recently with an influx of cool new motels like the popular Instagram girls trip spot – The June Motel & Lakeside Motel with its dreamy waterfront pool.  Prince Edward County is Ontario's fastest growing wine region with 30+ cool wineries to visit.  If it's nature you're after, Sandbanks Provincial Park is known for its picturesque sand dunes and sandy beaches. Sandbanks Provincial Park is the largest freshwater sand bar and dune system in North America. Eastern Ontario is also home to the stunning 1000 islands along the St. Lawrence River between Canada and USA. From Kingston (about 2.5 hours from Toronto), you can take a boat trip along the St. Lawrence River with 1000 Island Kingston Cruises to see the islands from a beautiful and unique viewpoint.
Eastern Ontario (Gananoque)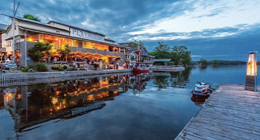 Just past Prince Edward County, between Kingston and Toronto is the unassuming town of Gananoque situated right on the St. Lawrence River. This small town is a popular tourist stopover because of its entry point to the 1000 islands. Visit the 1000 Islands Boat Museum along the waterfront, shop at Steel Style Garage for some stylish new threads, and have a bite worthy of any foodie at Laverne's Eatery patio. This little town is so picturesque, it's worth stopping just to walk around and take in its charm.
Niagara Region (Niagara Falls)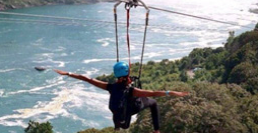 Niagara Falls is an international tourist destination and draw to Canada, so you shouldn't miss out on all it has to offer – especially if you are coming from Toronto which is only about an hour and a half drive away.  Besides the obvious draw of the actual Falls – imagine dangling 220 ft above ground facing the Canadian and American falls on the Niagara Wildplay Zipline! Or check out hundreds of birds at Bird Kingdom, the world's largest free-flying indoor aviary. There are tons of top tier dining and accommodation options, like Brasa Brazilian Steakhouse for food and a show if you want to turn it into a weekend getaway.
Southwestern Ontario (Waterloo, Elora)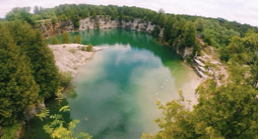 Southwestern Ontario is chock full of hidden gems. St. Jacobs Market is a flea market and farmers market near Waterloo and it's the largest year-round Farmers Market in Canada drawing $1M visitors a year. Long Point Provincial Park offers a stunning 1.5 KM sandy beach in the warm waters of Lake Erie where visitors can camp, swim, fish and enjoy the water. Elora Gorge Conservation Area is another fun summer destination, where visitors can tube down the Grand River surrounded by 70 ft high limestone cliffs, or swim in the 'old swimming hole', a former limestone quarry. Take your pick water-lovers!
Central Ontario (Wasaga Beach & Blue Mountain)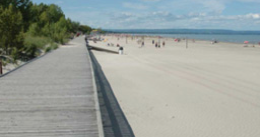 Visit the shores of North America's longest freshwater beach, Wasaga Beach. This summer tourist hot-spot offers up a beautiful seaweed-free swim on those hot summer days. If you're looking for a night out, the nearby Blue Mountain Village has tons of delicious dining options & shopping. Treetop Trekking Zipline Aerial Parks has 5 locations to choose from in Ontario (Barrie, Hamilton, Ganaraska, Stouville, and Huntsville). There, you can get an adrenaline rush on a zipline, at the aerial parks or even take part in a GPS rally. All of this in under 2 hours away from Toronto.
Niagara Region (Niagara-on-the-lake)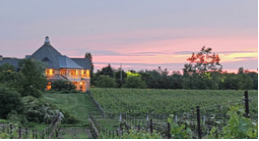 Niagara-on-the-lake is Ontario's best known wine region. You could make a day of wine-tasting at a few of the 50 wineries they have to offer. Peller Estates has a very romantic restaurant overlooking the vineyards to get a real feel for the wine region, or ice wine-tasting in their -10-degree ice lounge. For thrill seekers, take a jet boat tour on the Niagara River through the rapids (prepare to get soaked!). Niagara-on-the-lake is also known for its spas and inns like the 5-star 19th century Pillar & Post with its luxurious yet charming building. Whether its romance, thrill-seeking or relaxing, this is a great road trip destination only about an hour and 45 minutes from Toronto.
Please make sure to check in with your chosen destination before hitting the road to avoid any disappointment upon arrival as some destinations are imposing restrictions to visitors that are not local to control crowds and overflow.
Natalie & Phil