6 Skating rinks worth visiting
By Natalie & Phil Tuesday, December 5, 2017
---
When people talk about Canada, they talk about hockey and "eh" and Tim Hortons and being polite and a whole bunch of other things. While most of them are actually pretty accurate, not EVERYONE plays hockey! However, you will be hard pressed to find an Ontarian who has never skated. It seems to be one of those things that kids growing up in Canada do…especially since many of Ontario's city rinks offer lessons for as little as $50 a term (8+ classes) and offer FREE Public Skating and free Shinny Hockey at many outdoor rinks. (see Toronto details here). There are some skating experiences that are standouts though – check out 6 that are worth a visit. Check status of each – because they are outdoor, they are weather dependent.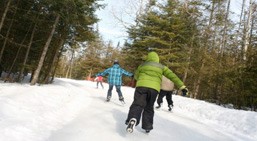 MacGregor Point is an all-season park on the coast of Lake Huron, just south of Port Elgin. In winter, weather permitting, you can skate through the woods on a spectacular 400-metre outdoor skating Oval. For a really magical experience, wait til dark cuz they turn on trail lights for skating under the stars until 10:00 pm every day of the week.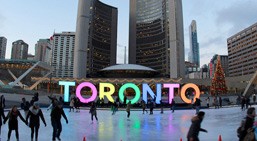 If you come to Toronto, you should make time to visit one of Toronto's famous downtown ice rinks. Come to Nathan Phillips Square with its unique downtown backdrop and the CN Tower in the background. They offer skate rentals from 10am-10pm every day including Dec 25; New year's eve til 9pm. Accessible by street car and subway, it is easy to get to and so much fun! Take a pic at the new(ish) Toronto sign too! Or visit the new Ontario Place synthetic ice rink which will open in December. Ontario Place has reopened the Cinesphere too so there are lots of reasons to include Ontario Place in your plans again!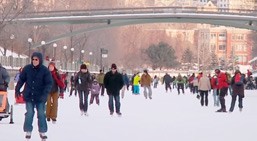 Did you know that the Rideau Canal skateway is the world's largest skating rink? If you want to have a memorable skate, this would be high on the list of places to go! The Skateway winds 7.8 km through the heart of Ottawa, from downtown to Dows Lake. The skating season runs from January until late February and the Rideau is home to lots of extra fun during the famous Winterlude festival. Feel like a night time skate? The public is allowed to access open sections of the Skateway 24 hours a day, but keep in mind that skateway maintenance is done overnight so keep an eye out.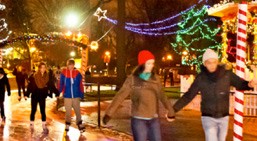 If you are lucky enough to live in or near Brampton, you have a choice of 2 cool trails. Chinguacousy Park​ is a new trail, designed in a 'canal' shape with natural bends and more than 2000 sq. meters of ice surface. It can accommodate up to 500 skaters and also has seating along the trail so you can watch the colourful skaters go by. Gage Park's trail lets you skate through the trees of this gorgeous park and it's free! It even has a DJ spinning tunes on Friday and Saturday evenings and Sunday Afternoons. Fire pit and food too.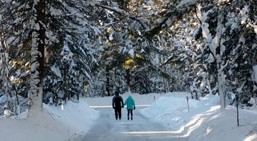 Huntsville's Arrowhead Provincial Park Ice Trail has gotten a lot of attention in the past few years, and it should! It is a gorgeous 1.3 km Ice Skating trail that winds through the Muskoka forest and was recently named one of 19 Stunning Natural Ice Skating Rinks Around the World by Travel+Leisure magazine. It fills up though, so if you can't get in, try Port Carling's Hanna Park Ice Skating Trail, a free of charge, 200m trail with a packed walking trail right beside it so parents or grandparents can keep a close eye on little ones. Or Cranberry Ice Trail, a 1.2 km loop around 12 acres of cranberries that is a refined experience with wine tastings, hot mulled cider & wine, and wine and cheese platters – perfect for a date!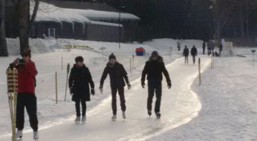 Discovery Harbour was originally built to safeguard access to Upper Canada after the War of 1812 and to supply British Posts to the northwest. Now, in addition to this military site which you can visit to learn about its history, you can also skate on its 1.5 km Skate Trail. Enjoy live outdoor entertainment, fireworks, ice-sculptures, face-painting and meet costumed children's look-a-like characters. A great outing for the whole family!
Most public rinks offer skate rentals & helmets. Some even have hot chocolate. What a perfect way to spend a beautiful winter afternoon or evening! Enjoy.
Find more Things to do & Places to stay in Ontario.
Shari & Elisa, Publishers – Summer Fun Guide