9 Ontario parks & hiking trails worth exploring
By Natalie & Phil Wednesday, April 18, 2018
---
9 Ontario parks & hiking trails worth exploring
Spring & summer are perfect for hiking in Ontario. We have miles and miles (kilometers and kilometers) of spectacular hiking trails for every level so there's no excuse not to look one up and start exploring our own backyard on foot! With the recently extended Trans Canada Trail, 150+ communities across Ontario now have access to the province's 5000 km section. Visit https://thegreattrail.ca for an online step by step map or download Ontario's section in a pdf Trans Canada Trail Ontario Map. The Ontario Trails site also has maps and lets you search by closest town, or activity or trail name. Below you'll find just a small sample of some that have unique or special features that make them stand out. Of course, don't forget to visit https://www.summerfunguide.ca/parks-trails-beaches-gardens.html for some additional trails as well as gardens, parks and beaches too!
Hiking in Central & Northern Ontario: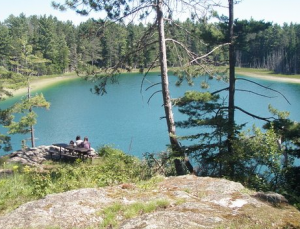 Between the Canadian Shield in Central Ontario and the vast unspoiled wilderness in Northern Ontario, it is pretty hard to find a BAD place to hike. You can practically just walk out your front door and go! There are, however, some places that have a little something extra such as Petroglyphs Provincial Park in Woodview which has Indigenous rock carvings, in addition to a visitor centre, and trails. Also, Algonquin Park is known world-wide as one of Canada's most gorgeous places to explore by canoe or on foot. While it is a canoe tripper's paradise, it is also great to do day hikes, as well as fish and bird-watch.
Provincial Parks & Hiking in Eastern Ontario: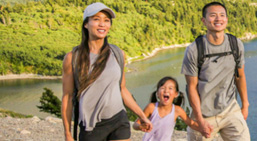 Bon Echo Provincial Park in Cloyne has hiking trails ranging from 1km to 17km, some of which allow you to view the 260 Indigenous pictographs on the 100metre tall Mazinaw Rock. There are also Interpretive boat tours on Mazinaw Lake and over the the Rock.  Thousand Islands National Park in Mallorytown has those picturesque granite islands & windswept pine trees that one thinks of when one hears Group of 7. It also has rare species of turtles and birdlife alongside hiking trails. It is the perfect place to spend a day hiking and picnicking by the St. Lawrence River or book a waterfront oTENTik and stay overnight.
Parks & Hiking Trails in the GTA: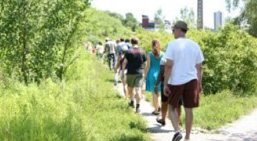 Conservation Halton Parks boasts 10,000 acres of natural parkland at its Conservation areas: Kelso, Crawford Lake, Mountsberg, Hilton Falls, Rattlesnake Point & Mount Nemo. Enjoy the hiking & biking trails through forests & along the Niagara Escarpment & stop to investigate the waterfalls, animals, caves & more. Evergreen Brick Works along Toronto's Bayview extension offers nature in the middle of Toronto. This former quarry was transformed from a bunch of deteriorating heritage buildings into a global showcase for green design and urban sustainability. It has hiking trails and also free guided group walks through the largest ravine system of any major city.
Parks & Hiking Trails in Ottawa: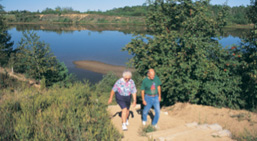 Pinhey's Point Historic Site on the banks of the Ottawa River isn't a trail, per se, but it does have 88 acres of greenspace, as well as a 200-year-old manor house and surrounding ruins. This scenic space, along with rolling green hills, combine to make it a very popular place to hike, have a picnic lunch, and hang out on the river, soaking up local history. Canada's Capital Greenbelt  in Ottawa is the largest publicly owned greenbelt in the world with 20,000 hectares of green space. The Greenbelt's objective is to protect natural areas like forests, wetlands, streams & sand dunes that sustain biodiversity. Hiking is one of the best ways to enjoy it, year round, and there are 150 kilometres of trails available to explore.
Parks & Hiking Trails in Niagara: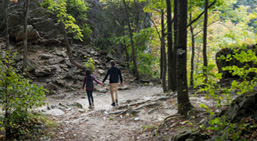 Greater Niagara Circle Route Trails System is a series of 140km of mostly off road, paved trails for walking, cycling or rollerblading. The trail passes through urban centres, downtowns, the Niagara Escarpment, waterfronts, & rural/agricultural areas. The main trail elements of the system include the Welland Canals Parkway Trail, the Fort Erie Friendship Trail, the Niagara River Recreation Trail, The Waterfront Trail and the Trans Canada Trail. There are opportunities on some of the trails to stop in at wineries, historic sites and more.
Parks & Hiking Trails in Southwestern Ontario: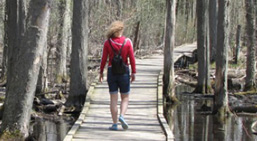 Southwestern Ontario is huge and has loads of options for hiking all over the region. We pulled out a few just to give you a starting place. Backus Heritage Conservation Area near Port Rowan has 15 historic buildings in Backus Heritage Village, a mill pond stocked with rainbow trout, interpretive centre where you can learn about the plants, birds and animals common to the watershed.  They also have guided nature hikes and events.  The Arboretum at University of Guelph is right next to the university's main campus and has beautiful formal & natural gardens. It is open dawn until dusk and is free to the public. The Arboretum encompasses 400 acres of plant collections, gardens, walking trails, natural woodlands, wetlands, and meadows.
So if you have a pair of hiking boots, now is the time to get them on and go exploring. If you don't have a pair, no worries – running shoes with a good grip will suffice. Just choose your trail and have fun!
Find more amazing beaches, parks and hiking trails in Ontario
Shari & Elisa, Publishers – Summer Fun Guide