Art Galleries worth visiting around Ontario
By Shari & Elisa Monday, May 6, 2019
---
Visit an Art Gallery in Ontario!
May 12 is Mother's Day and what better way to celebrate than to go gallery-hopping around Ontario?  But truthfully, you don't need an excuse to stroll through an Art Gallery! Anytime is a good time. Ontario has a wide range of galleries, ranging from National galleries to smaller, local galleries. Check the Galleries category on Summer Fun Guide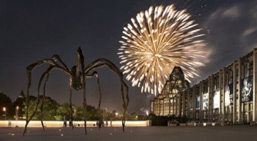 Ottawa/Eastern
Ottawa has almost all of Canada's national museums and galleries, so if you are looking for a major gallery, you might want to take a visit to the National Gallery Of Canada. It has new Canadian and Indigenous galleries, a Canadian Photography Institute & world-class European & contemporary art.  It has a broad range of items while Madonna House Pioneer Museum in Combermere (Eastern ON) has authentic artifacts, art, & collectibles including a working Player Piano, that show the life of local pioneers.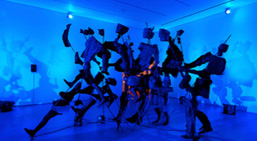 Southwestern Ontario
There are several galleries in SW Ontario. Art Gallery of Hamilton is the oldest & largest art museum in Southern Ontario and has one of Canada's best collections of Canadian, contemporary and international art. Windsor Sculpture Park has 31 large-scale, internationally recognized works of contemporary sculpture by world-renowned artists in its gallery without walls along the Windsor waterfront.  The Canadian Clay and Glass Gallery in Waterloo has free admission and is the only Canadian art gallery exclusively dedicated to ceramic, glass, enamel & stained glass.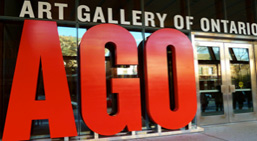 GTA
When you come to Toronto, there is lots to do, but don't forget to visit its many galleries. There are several gallery districts with private galleries  including the Yorkville/Hazelton area but Toronto's public gallery scene is where it's at – it is world class! Art Gallery Of Ontario (AGO) in Toronto has over 100,000 works of art, including the Group of Seven's signature works, & cutting-edge contemporary art. McMichael Canadian Art Collection in beautiful Kleinburg has an iconic collection of Canadian art, including Tom Thomson, First Nations, Métis, Inuit and contemporary artists, all on 100 acres of woodland.  Peel Art Gallery Museum + Archives is housed in 150 yr old historic Peel County Courthouse and Jail. It features outstanding exhibitions and hands-on programming for all ages.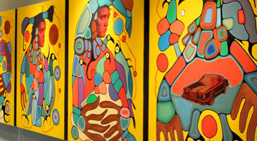 Central and Northern
When you think about central and northern Ontario, you think about nature and outdoor beauty. But what you may forget is that all of that natural beauty also inspired some of Ontario's most famous artists. Maclaren Art Centre is a public art museum in downtown Barrie with year-round contemporary art exhibitions, community art projects, family art workshops & more. Thunder Bay Art Gallery is the only public Gallery between Sault Ste Marie and Winnipeg, and focuses on the contemporary art of Indigenous and Northwestern Ontario artists.
Many of the Art Galleries around Ontario specialize in a theme or period. Many also have programs and lectures that appeal to all age ranges. Next time you are looking for something to do, visit the Ar Gallery in your neighbourhood. It could end up being the special treat you're looking for.
For more things to do & places to stay in Ontario, see Summer Fun Guide.
Shari & Elisa, Publishers – Summer Fun Guide