Attention All Foodies!
By Shari & Elisa Friday, February 24, 2017
---
Food tourism has become a "thing" and Ontario is one of the best places to eat/drink your way through a holiday. From food tours and trails, to our multiple wine regions to the recent explosion of craft breweries to world-renowned restaurants, both international spin-offs and home grown, Ontarians are both leading the way, and supporting the trend in culinary tourism.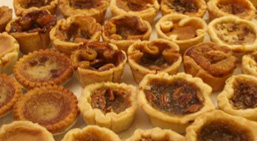 Food Trails
Many regions have decided that food tourism is where it is at. It not only brings visitors to a region, but supports the food producers, restaurants, and markets of the area. One relatively new addition is the creation of food trails. Mostly self-guided, these trails identify a theme and offer maps to interested travelers allowing them to taste and learn on the way. Ontario's got some very cool trails – such as Kawarthas Northumberland Butter Tart Tour, Wellington's Butter Tarts & Buggies Trail, Blue Mountain region's Apple pie trail,  Huron-Kinloss Ice Cream Trail,  Oxford County Cheese Trail, Savour Elgin Culinary Trail, Stratford's Chocolate Trail, Prince Edward County Taste Trail, Niagara Wine Route and more! Check them out and satisfy your cravings. Let us know which are your favourites.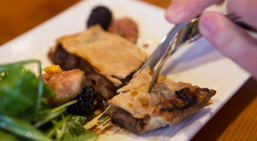 Food Tours
Many "foodies" of every age like to add a food tour to their visit, as they believe the food environment to be a vital way of getting to know a city or town.  From meeting artisan food producers, chefs, fishmongers & butchers, to having guided tours through the best stalls at food markets, one can learn about neighbourhoods, cultures and history through food. There are also culinary adventures (Paddle a canoe to a gourmet picnic, visit vineyards and meet Wine Makers, take cooking classes) that add to the fun! Check the various offerings at Culinary Adventure Co, Ottawa Tasting Tours or Taste the Town Tours – ranked one of the top 3 activities by Trip Advisor in all of Niagara-on-the-Lake.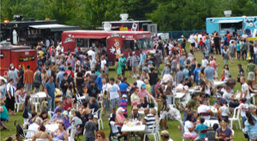 General Food Festivals
We hear about a new food (or alcohol) festival every week. If I went to all of them, there is no amount of exercise that would ever offset all I could consume at these events! Take note of the festivals that catch your eye and mark them in your calendar so you don't miss them, and come hungry! We'll list a few here, but visit our festivals page and event calendar for dozens more: Bread & Honey Festival – June 2-4, 2017, Carassauga: Mississauga's Festival of Cultures – May 26-28, Festival de la Curd/ Curd Festival – Aug. 16-20, Baden Corn Festival – August 12, Stratford Kiwanis Garlic Festival – Sept 2017.

Rib Fests
We made this a separate category, because Ribfests are now the hottest trend around. Having been to a few, we can attest to the fact that a ribfest is a great way to spend an afternoon or evening. From amazing food, to those delish side dishes (blooming onion or corn on the cob, anyone?) to live music and market vendors, there are few who should say no to lunch or dinner at a ribfest! The bonus is that many are charity events with proceeds going to worthy causes.  Canada's Largest Ribfest – Sept 1-4, Burlington, Toronto Ribfest presented by Rotary Club of Etobicoke – June 30-July 3, Toronto,  1000 Islands Family Ribfest – June 30-July 2, Gananoque, Northern Heat Rib Series –  multiple locations/dates.
This is just a sampling of the gastronomical delights that beckon us in Ontario. For more Food Tours, Festivals and adventures visit the Culinary Experiences category on Summer Fun Guide.
Enjoy!
Shari & Elisa