Beautiful Ontario Beaches
By admin Monday, July 20, 2015
---
Ahh, the lazy days of summer. Who doesn't long to relax & unwind on a warm sandy beach under a beautiful blue sky? Luckily, we Ontarians don't have to go far to find a beautiful beach to enjoy. We've done the research & found some wonderful spots where you can relax & recharge this summer.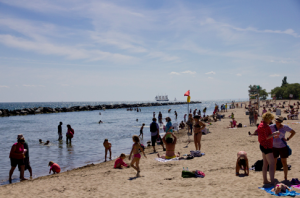 City of Toronto Beaches
Living in the heart of Toronto doesn't mean that you can't access great swimming beaches. Since 2005, Toronto has certified its beaches under the International Blue Flag Program and there are now 8 swimming beaches that meet these high standards for water quality, safety & service as well as environmental management & education. Take a drive or a ride on a ferry & check out the beautiful beaches that Toronto has to offer.

Kettle Lakes Provincial Park & Providence Bay Beach
Northern Ontario boasts some lovely beaches for you to enjoy this summer. Kettle Lake has 22 spring-fed kettle lakes that were created almost 10,000 years ago at the end of the ice age. There are 2 main beach areas here – on Island Lake & Slab Lake where you can swim, paddleboat, fish & play. Providence Bay Beach (Manitoulin Island) is found on the south shore of Manitoulin on Lake Huron & is considered to be the best beach in Northern Ontario.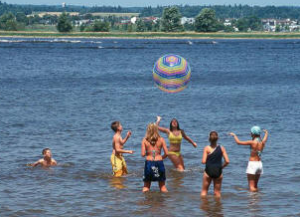 Petrie Island
In the Ottawa area, enjoy a beautiful summer day at one of 2 large beaches on the northeast corner of Petrie Island – the North Beach (or River Beach) & the East Bay Beach. Operated by the City of Ottawa, they have lifeguards (noon-7pm daily), public washrooms, changerooms & a shaded picnic area not far from the main beach. The water quality is monitored daily to ensure it is safe for swimming.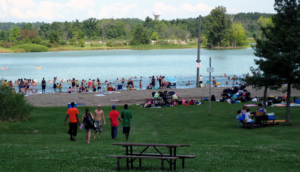 Niagara Peninsula Conservation Authority Beaches
The NPCA has 36 spectacular conservation areas for you to explore & enjoy this summer including Long Beach & Binbrook Conservation area. Long Beach, on the shores of Lake Erie, is a beautiful spot for camping, swimming, playing in the sand or relaxing under the shade of a tree. Binbrook is where you'll find the Niapenco reservoir, the largest inland lake in the Niagara Watershed. You'll also find a swimming beach here in addition to kids' play areas, fishing & boating.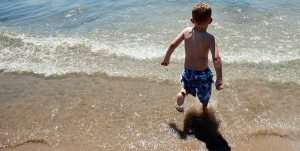 Cobourg Beach & Kawartha Lakes Beaches
A trip into Central Ontario will give you access to many beautiful beaches. Cobourg Beach has clean water, soft sandy beaches, a beautiful boardwalk, playground & great festivals all summer long. Visit on Aug. 1st for the 10th Anniversary of the incredible Sandcastle Festival. The Kawartha Lakes region has many beaches to visit during the summer including those in the Coboconk area & in Fenelon Falls. The water is tested weekly.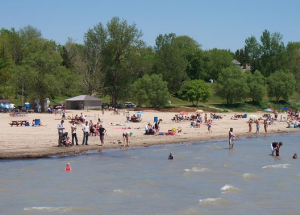 Norfolk County, Municipality of Bayham, Sarnia & Lambton County
Norfolk County has great beaches for swimming, boating, relaxing & fishing. Walk along the pier at Port Dover Beach, bring the kids to Turkey Point Beach for to have fun on the shallow sand bars, or visit the stunning Long Point Beach located on a 40-km long sand spit. In the Municipality of Bayham, spend the day at Port Burwell Provincial Park and relax on 2.5 kms of gorgeous sandy beach. The water is shallow, sandy & warm but there are no lifeguards. Sarnia-Lambton County also has exceptional Blue Flag beaches (please see the Feature section for more details) perfect for a summer day.
You don't have to go to far to feel the warm sand between your toes & to jump into some refreshing, cool water. Just head to your nearest beach for some R&R this summer.
https://credit-n.ru/order/zaim-migone.html частный займ уфабыстрый займ челябинскполучить займ онлайн на карту