BOO! … celebrate Halloween and pick a pumpkin in Ontario
By Shari & Elisa Thursday, October 4, 2018
---
When October rolls around, 2 things start to appear…freshly picked pumpkins (and apples) and Halloween stuff. It is a fun month, that usually offers pretty good stretches of weather, lots of harvest foods and some scary goblins thrown in for good measure. Below are some places to enjoy October.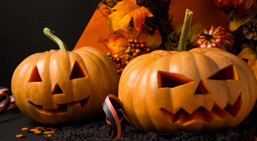 Pumpkins & Mazes
Two fun things to do in October are picking (and carving) a pumpkin and getting lost in a corn maze. Applewood Farm & Winery (Stouffville) specializes in Apples & pumpkins. They also have a Corn Maze, Animal yard & more. Great Lakes Farms, Port Stanley is all about Fall! PYO apples, pumpkins, plus fresh baking and a corn-maze. Kustermans Family Fun & Berry Farm, Mount Brydges also has PYO pumpkins as well as farm fall fun like a corn maze and fall festival. Cooper's CSA Farm & Maze, Zephyr not only has pumpkins but also a 10 acre corn maze! Ouimet Farms Adventure, Vankleek Hill has a giant Corn Maze as well as a pumpkin patch.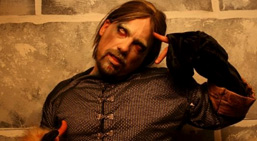 Spooky Stuff
While it isn't fun to be scared during the year, somehow, it is kindof cool to get terrified around Halloween. Go figure! Canada's Wonderland Halloween Haunt is bigger, better & more terrifying this year, with horrifying mazes, scare zones, live shows + 700 monsters prowling the Park.  Fort Fright at Fort Henry Oct 12 – 31, Kingston calls itself Ontario's scariest haunted house and has attractions, scare scenes, scare actors & technology to make sure you are terrified! Haunted Fort Night at Fort William Historical Park in Thunder Bay offers spooky tours of the dark Fort. Encounter strange tales, ghostly characters, shocking surprises & Things That Go Bump in the Night.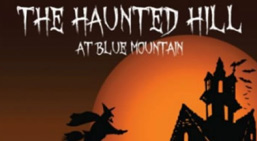 Events
There are loads of events going on all month long. Visit the Summer Fun Guide Event page and calendar for lots of ideas but here are just a few: Garden Square Brampton has FREE entertainment year-round, like The Great Pumpkin Party, and more! Blue Mountain Resort transforms Blue into The Haunted Hill, Oct 24-26, when ghosts and goblins run through Enchanted Forests, Haunted Putting Courses and Hikes on Haunted Hill. Rounds Ranch, Elmvale has a Pumpkin Mania Festival, Weekends til October 28, with wagon rides, pumpkin-themed games, corn mazes, farm animals; guests visit the pumpkin patch and pick their own pumpkin to take home.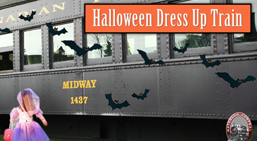 Other Fun Things to Do
Halloween themed happenings are another way to enjoy the season. How about taking a Halloween train ride? Dress up in your costume for a fun and spooky train ride such as the one by Waterloo Central Railway, St Jacob; the best costume gets to ride with the engineer. On York Durham Heritage Railway, Uxbridge, Halloween Trains offer dressed up kids a goodie bag after a ride through the Uxbridge-Stouffville corridor. Monster Month in Elora has 31 days /nights of Halloween fun including a Monster March and Tim Murton's Twilight Zoo.
We are fortunate to live in Ontario, where we can get out and enjoy the beautiful colours of the fall season, create lasting memories of pumpkin carving with our kids, get lost in a giant corn maze and, just maybe, walk though a haunted house that makes us jump in fright.
Happy Halloween!
For more things to do & places to stay in Ontario, see Summer Fun Guide.
Shari & Elisa, Publishers – Summer Fun Guide