Castles in Ontario
By Natalie & Phil Tuesday, August 1, 2017
---
Explore the beautiful castles in Ontario this summer!
Did you ever want to be Cinderella (or her male equivalent) and live in a castle? If you live in Ontario, you might not be able to live in a castle, but you can certainly visit one.  However, to be clear, there aren't too many that are true castles, as most are really country houses, follies, or buildings that just look like castles, designed in either the Gothic, Romanesque, Tudor or Renaissance Revival, Château-esque, or Scots Baronial styles. No royalty lives in any of them and these days, almost all are museums or cultural sites.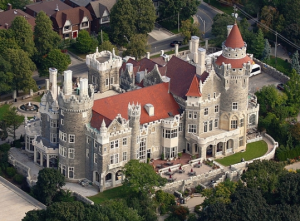 That shouldn't stop you from donning a tiara and making a visit though! Here are a few of the buildings are called (or call themselves) castles:
Built in 1914 in Toronto, Casa Loma is North America's only real, full size castle. Now a museum and landmark, this is a pretty authentic member of the castle club and is often used in movies and tv shows.
Castle Kilbride in Baden (1877) calls itself a castle, but it is actually one of the finest examples of an upper class Victorian home you will ever see with Trompe l'oeil murals & exquisite décor throughout.
White Otter Castle (near Atikokan) is actually an elaborate three-story log dwelling built single handedly and by hand by eccentric hermit James Alexander "Jimmy" McOuat with logs he cut, hauled and interlocked. After being told he'd come to no good and die in a shack, he built this "castle" to show people wrong but sadly, drowned just a few years after completing it.
The Château Laurier Hotel was always meant to be a hotel. Designed in a castle style in 1912 in Ottawa, it opened with 350 rooms featuring Tiffany stained-glass windows and hand-moulded plaster decorations and private rooms which cost $2/night! They are a little more these days!
Dundurn Castle is a 40-room villa in the Hamilton area which was built in the 1830s. It now operates as a civic museum with costumed interpreters who illustrate daily life from the 1850s.
Euclid Hall, now known as Toronto's Keg Mansion, is a downtown heritage building which was built in 1868 by Arthur McMaster & later renovated by Hart Massey and his wife, it was bequeathed to University of Toronto. In 1976, it was renamed the Keg Mansion.
Two more castles to mention – they aren't really in Ontario, but they are in Ontario's Thousand Islands and if you happen to take a boat tour from Gananaque or Brockville, your tour is likely to cruise you by one or both (actually, they are in the US, so you need to bring a passport on your cruise)- one is Boldt Castle and the other is Singer Castle. Boldt Castle has a sad story…it was built by the millionaire owner of the Waldorf Astoria Hotel as a full-size copy of the Rhineland Castle as a display of his love for his wife, Louise. However, his wife passed away suddenly before it was completed, and not only did he stop construction, but Boldt never returned to the island, and the uncompleted structure stands forever as a monument of his love.
So visit a castle in Ontario (or via an Ontario cruise) and discover some of the rich cultural heritage in our province. And don't forget your tiara!