Exploring Caves & Waterfalls around Ontario this summer
By Natalie & Phil Monday, July 20, 2015
---
Here at Summer Fun Guide we love exploring the natural beauty of our province. This week we looked at the caves & waterfalls around Ontario. A visit to an Ontario cave can take you back to prehistoric times and a waterfall is always a beautiful place to explore, especially on a hot summer day.
Caves & Waterfalls in Central Ontario
Central Ontario is full of natural wonders including Scenic Caves Nature Adventure. You could probably spend a week at this fabulous natural adventure park. Start by exploring the caves but don't stop there. Mine for gems, see the views from the suspension bridge, be brave on the Twin Zip line, play mini-golf and lots more. Waterfalls are abundant in this region too.  You can visit Ragged Falls–it's close to Algonquin Park & noted as one of the top 10 waterfalls in Ontario. Or take the Grey County Water Falls Tour to experience the true  beauty of the region.
Caves & Waterfalls in Southwestern Ontario
Near Owen Sound, in Southwestern Ontario, you can visit the Inglis Falls Conservation Area where you can take in the gorgeous sights, hike the Bruce Trail & see the historical remains of an 1862 grist mill & water filtration plant. If you're looking for caves in the area, you can visit Bruce's Caves Conservation Area in Wiarton or Greig's Caves in the Northern Bruce Peninsula
Caves & Waterfalls in Eastern Ontario
A visit to the Bonnechere Caves in Eganville, will give you both a cave & a waterfall experience. Down in the caves you'll feel like you're back in pre-historic times as you view the fossils & learn how these amazing caves were formed. During the summer, guided tours begin every 20-30 minutes, last for 1 hour & are accessible to all. Outside the caves you can enjoy the beautiful waterfalls along the Bonnechere River.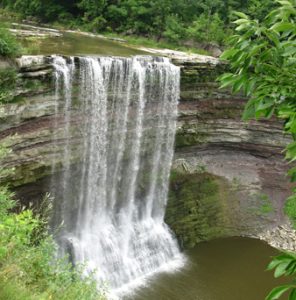 If you've already seen THE Niagara Falls – don't stop there. The Niagara region has some other incredible waterfalls to enjoy – and perhaps you'll encounter fewer crowds & get closer to the water. Balls' Falls Conservation Area is a beautiful outing where you can visit the falls, explore the area, tour the heritage buildings & learn about the history of the region. Rockway Conservation Area
Is part of the Niagara Escarpment and here you can hike the trails & see 2 stunning waterfalls, the larger of which flows from a height of 63 feet.
The warm summer weather just begs us to get outdoors and explore our environment. A visit to a cave or waterfall will really allow you to appreciate the joys of Ontario's beautiful, natural world.