Exploring Collingwood – 4–season fun!
By Shari & Elisa Wednesday, March 14, 2018
---
Things to do in Collingwood, Ontario
Collingwood and the Blue Mountain area used to be a destination only for skiers. Oh, how that has changed! There has been a concerted effort by the region to expand offerings to entice tourism year round and now, the area is actually more popular in warm weather than cold. For more listings in the region, check out: http://www.summerfunguide.ca/southwestern-ontario.html. Don't forget to look for listings in Meaford, Thornbury, and Stayner too; they're all nearby.
Places to Stay in Collingwood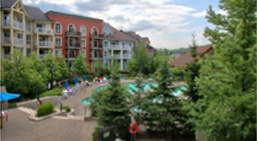 Because people often come up every weekend during ski season or during the summer months, there are lots of condos available to rent for extended periods. When you are looking for a shorter term getaway, though, you might want to investigate Cranberry Village which has a golf course, new Aquapath spa, kids' camps, & more! Or if you want to stay RIGHT in the action, Blue Mountain Resort has it all with on and off-hill activities – Wind Rider Triple Zips, Ridge Runner Mountain Coaster, Cascade Putting Course… and it puts you right in the action for all of the Blue Mountain Village Festivals & Events which take place in Ontario's largest pedestrian Village at the base of Blue Mountain.
Outdoor Things to Do in Collingwood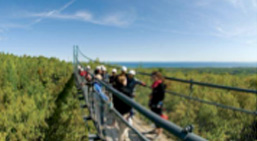 Collingwood's location on the Escarpment overlooking Georgian Bay means that the scenery is always gorgeous. From the Bruce Trail, Canada's oldest and longest marked footpath, spanning > 890 km of main Trail, which runs through Collingwood, to Wasaga Beach, the world's longest freshwater beach, less than 30 mins away, there is a lot to look at and enjoy. There are also outdoor activities such as Scenic Caves Nature Adventures which offers self-guided tours of caves/caverns along the Niagara Escarpment, spectacular views from the Suspension Bridge, treetop canopy walking, x-country skiing/snowshoeing and lots more. Or have some fun at Blue Mountain Go Karts which has regular and junior Karts, Mini Golf, & Batting Cages. Or enjoy scenery AND wine year round at Georgian Hills Vineyards & Winery.
Indoor Things to Do in Collingwood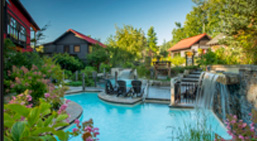 It isn't all outdoors in Collingwood. Spend an evening at Theatre Collingwood and enjoy performances year round. Or get your zen on at Scandinave Spa Blue, an award-winning year-round Spa with outdoor Scandinavian Baths, massages, dining and more. Have a few young (or young at heart) ones in your group? Don't forget about Plunge! Aquatic Centre, a year-round all-ages, four-season water playground at the base of Blue Mountain in the Westin Trillium hotel (you don't have to stay there to have access to it) with indoor and outdoor pools, rope swings, slides and other fun stuff.
Sightseeing in Collingwood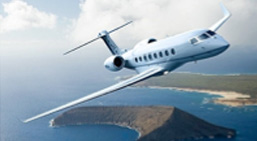 One of the best ways to see Collingwood with the mountains and the water is from the air. There are a couple of options…plane or helicopter. Genesis Flight Centre – Scenic Flights offers spectacular views of the Escarpment and Georgian Triangle in their standard or custom tours. Or Big Blue Air – Helicopter Tours & Charters offers a variety of trips ranging from Tours of Blue Mountain Village to Fly & Dine Tours and lots of others. Both do custom tours and both are great gifts.
Whether you're into golf, tennis, hiking, biking, strolling, shopping, eating or relaxing – the Collingwood area has it all. Mountains, beaches, fresh air, beautiful views and great people! Try it any time of year.
Find more Things to do & Places to stay in Ontario.
Shari & Elisa, Publishers – Summer Fun Guide