Fun in the Water in Ontario – Beaches, Waterparks & More!
By Natalie & Phil Wednesday, August 13, 2014
---
Ahhhh – to be surrounded by blue water and to feel the
warm sand between your toes
.  What a feeling!  Usually we have to travel far to experience such pleasures, but in the summer, it's all available to us right here in Ontario.
Waterparks: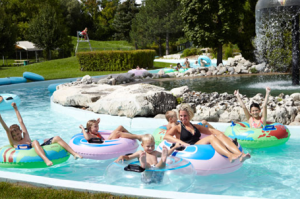 Public Beaches: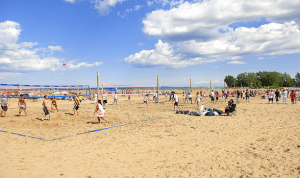 Ontario is home to many beautiful & famous public beaches as well as several more remote and less populated beach spots. Central Ontario has the well known
Wasaga Beach
– did you know that this is the world's longest freshwater beach? In Southwestern Ontario, another well known destination,
Sauble Beach
, is famous for its Sandcastle Contest, among other things. This region is also home to the
Municipality of Bayham
with its stunning beaches & so much more. In the
GTA
, Toronto has some well-travelled beaches in addition to some hidden gems. Check this site for a list of the GTA's blue flag beaches, amenities and locations.
Northern Ontario
is home to countless incredible spots – national parks, beaches and more. In the area around
Sault Ste. Marie
, you can explore beautiful beaches including the very secluded Katherine's Cove. The Niagara Peninsula is a beautiful place where you can enjoy a stay along with a hike and swim at beautiful
Long Beach Conservation Area
.
Splash Pads – water for the younger crowd: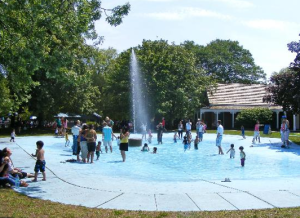 For smaller kids, a waterpark can sometimes be too big (and too scary!).  It's good to have a selection of splashpads in your back pocket as a great destination to cool off on a hot day with young kids.  In Southwestern Ontario, there's the enchanting
Storybook Gardens
which has so much more than splashpads.  A trip to
Centre Island
in the GTA is a wonderful day out for young kids –  in addition to the fun ferry ride there, you can enjoy a splash pad, rides, & games. 
Cedar Park Resort
,
also in the GTA, has wonderful splashpads in addition to their big waterslides. 
Saunders Farm
in Ottawa has many fun activities for an action-packed day including a Water Spray Zone to stay nice & cool.  In
Northern Ontario
, Thunder Bay has fantastic & free splashpads.  And at the
Roaring Rivers Waterpark
in Eastern Ontario, you'll find a splashpad, & small waterslide as well as big waterslides for the older kids.
Beaches – private (resorts)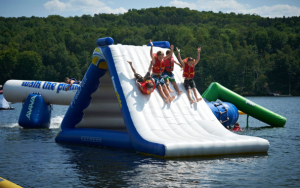 For a more private beach experience, spend a few days at a resort with a beautiful beachfront.  Central Ontario has many first-rate lakeside choices – such as
Bayview Wildwood Resort
,
Irwin Inn on Stoney Lake
,
Killarney Lodge in Algonquin Park
,
Northridge Inn & Resort
,
Deerhurst Resort
,
Shamrock Lodge
,  and
Severn Lodge
to name a few.  In Southwestern Ontario, there's
Evergreen Resort
and
Oakwood Resort
, which is just steps away from the beautiful sandy beaches of Lake Huron.  In Northern Ontario,
Bayside Resort
is a good option for relaxing beach time.
If you look forward all winter to the feel of sand and water, now's the time to get out and enjoy the best of Ontario's lakes & sandy beaches. If your preference is for excitement, then take the family or a friend and enjoy the thrill of some incredible waterparks. Enjoy!