Ghosts and Goblins and Witches …
By Natalie & Phil Thursday, October 20, 2016
---
Tis the season for the Ghouls to come out! If you like to scream, we have a lot of scary things to do which will definitely make the hair on your neck stand up!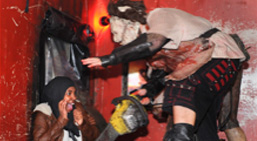 Halloween and Haunted Attractions
There are a bunch of attractions whose only reason for being is to scare the pants off of you! Some of them, like Ghost Blasters Dark Ride, House of Frankenstein and Nightmares Fear Factory Haunted house, both in Niagara Falls, are year round scary attractions, but there are also several that just operate a few weeks or month a year and for many of them, their objective is to get you to chicken out! Here are just a few: Cannington Haunted Trail & Maze Oct 28-29 (Cannington).  Screemers in Toronto's Exhibition Place is Canada's #1 indoor haunted scream park-October 21-23, 26-31. Scare House Windsor has 3 floors of terror in an old theatre. Oct 20-31.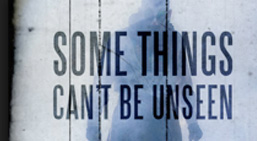 Spooky Events
Some attractions around the province have special events or exhibitions around the Halloween Holiday and most are included with your attendance fee. Fort Fright Kingston gears up for fear and is open nightly from Oct 20.  PumpkInferno Tunnel of Terror at Science North Sudbury is Canada's only underground haunted house, 7 stories down!  Halloween Haunt at Canada's Wonderland is Canada's largest haunted theme park, operating after the regular park closes. Admission is not included with the regular fees.  Scream Park Kitchener at Bingeman's bills itself as Canada's most terrifying Haunted attraction. And finally, for little guys, a gentle event at the Toronto Zoo – Boo At The Zoo – come in your costume!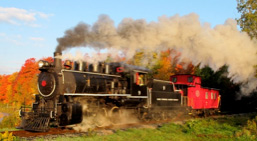 Haunted Rides
Not all of the Halloween events are scary. Some, like many of the tourist and heritage trains around Ontario, offer special, themed Halloween excursions that are geared toward the younger crowd. The trains are usually decorated and ghosts, ghouls, and other entertainment for young and old roam the train cars. Halloween activities are included and young passengers are encouraged to come dressed up. Departures are usually in the early evening to accommodate young families and loot bags are often included. Visit Waterloo Central Railway's Halloween Dress-Up Rides October 27 & 29, South Simcoe Railway's  Haunted Hallowe'en Adventure – October 28/29, York Durham Heritage Railway Oct 22 – Uxbridge/Goodwood, and OCT 23, 29, 30 – Uxbridge/Stouffville.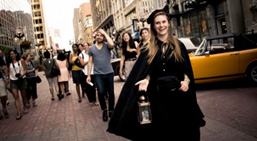 Ghost Tours
Some people believe that ghosts are around us all the time. Certain places are thought to actually be "haunted" and there are stories galore about strange sounds, doors opening and closing with no one around and more. Take a guided ghost tour, and hear the often tragic stories behind many ghosts' demise. Burlington Ghost Walks has several spooky spots on their tour. The Haunted Walk company has been showing people the darker side of Kingston, Ottawa & Toronto for 20 years. Niagara-on-the-Lake is commonly referred to as Canada's most haunted town and much of the activity centers around Fort George National Historic Site. Ghost Tours of Niagara takes you there. And I, personally, like this next one! Go Tours Canada (formerly Segway of Ontario) offers The World's Least Scary Ghost Tour!