Great Girlfriend/Brofriend Getaways
By Natalie & Phil Friday, December 18, 2015
---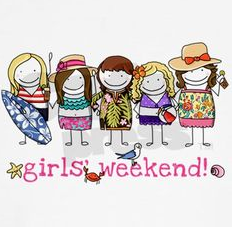 Take a Break with your Besties!
As the days become shorter and colder, sometimes we need a little break from our routines. While a sun holiday is always nice, we don't always have the time (or funds) to escape far. However, a change of scenery close to home offers an equally great break and we've got some great options in Ontario for a 3-4 day getaway.
Casinos
We always think of Vegas or Atlantic City but Ontario has a bunch of casinos too. What's great about a casino is that there really is something for everyone, male or female, young(ish) or old – from great restaurants, to entertainment (some, like Casino Rama, have internationally renowned stars), to slots, to amazing people watching to great accommodations.  In addition to Rama and not one, but 2 major casinos in Niagara, there are OLG Casinos all over the province, or check out the Great Blue Heron Casino – you don't even have to go far for your fun!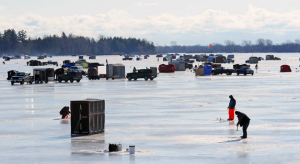 Ice Fishing & Hunting
There is nothing like getting back to nature that gives your mind a break. And the silence and camaraderie and thrill of ice fishing or hunting can make it a perfect getaway. Sitting around a hole in the ice and drinking hot chocolate (or something stronger), waiting for the bite and talking about both the ones you landed and the ones that got away are a perfect recipe for making memories that will last forever.  While Northern Ontario has some of the best opportunities in completely remote and unspoiled nature, there are lots of places in Central Ontario too. Make sure you have a license and follow the rules for fishing and hunting and send us a pic of what you landed – we'll post it on facebook!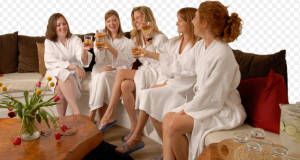 Spas and Resort
All over the province, there are wonderful resorts, spas, yoga retreats and more that can provide you a luxurious (or rustic) environment to kick back and get some 'ME' time. With options ranging from guided hiking and snowshoeing to yoga and exercise classes to straight out pampering at a spa, one of Ontario's accommodations is sure to help you come home rejuvenated. Many have such top quality restaurants that you don't even have to leave the premises if you don't want to.  We'd like to list them all but there are so many all over the province and the options are so varied, that you're better off visiting the Summer Fun Guide site to choose the one that works for you
Dogsled Tours
Sometimes the break you are looking for needs some adventure attached to it and a dogsled tour is an exciting way to enjoy the crisp, cold weather and the gorgeous scenery. The dogs are incredible and many of the tours teach you about caring for sled dogs too! No experience is necessary at most places  – they will teach you what you need to know.  There are dogsled opportunities in many parts of Ontario, but consider one of these: Haliburton Forest & Wild Life Reserve has 80,000 acres of forested, rolling hills interspersed with lakes and wetlands & 300 km of groomed trails. The small camps and shelters along the paths offer scenic locations to have a snack, warm up or stay overnight. Or check out Winterdance Dog Sled Tours and let one of their 150 Purebred Siberian Huskies help you explore Haliburton's breathtaking wilderness for a 2 hour, 1/2 day, full day, moonlight or multi-day dog sledding trip.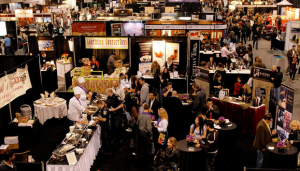 For the Foodie
For many of us, it isn't about the place we are going, but rather, about the food we are going to eat once we are there! Make a weekend of it by booking around a foodie event, tour or trail.  There are some tasty events coming up including Taste the Season Niagara, Gourmet Food and Wine Expo Toronto and Fusion in Sarnia. How about eating your way along the Apple Pie Trail in the Blue Mountain/Collingwood area, or taking a foodie tour from places like Niagara Culinary Tours or Ontario Food Tours or Elora Culinary Walking Tour? It doesn't really matter where you stay, although you can find some great places to be based from. In fact, many of the hotels and resorts and inns have some pretty great food themselves. Prince Edward County and Niagara on the Lake both pride themselves on making food a key part of every experience.
Shopping
They don't call it retail therapy for nothing! A little shopping trip can definitely make you feel like a whole new you! Luckily, Ontario has started to benefit from the outlet mall trend and now we don't have to cross the border to take advantage of all the great deals. Tanger Outlets Cookstown was one of the early ones and their recent major renovation has made them even more of a draw, and they're now in Ottawa too. You can do some damage at the Canada One Brand Name Outlets in Niagara and once you're in Niagara, don't forget about Canada's largest open air outlet mall – Outlet Collection at Niagara. Last but not least, check out Toronto Premium Outlets – you might know them from the US, but this is their first Canadian centre. So take a break from real life and shop til you drop; when you're all dressed in your new gear, you'll be good to go for another season!
Tis the season for a quick getaway. There are lots of options for either your girlfriends or your bros, or bring your siblings or folks (or both) and make it a family reunion! Ontario has whatever kind of getaway helps you recharge. The US dollar is ridiculous, so book an Ontario staycation instead and recharge for another few months (you can always do another one in the spring!).