Keeping it Cool in the Outdoors!
By Natalie & Phil Thursday, February 5, 2015
---
As the cold weather of an Ontario winter settles in, it's time to think about all of the wonderful outdoor activities available to us.  Canada is known for its winters and we have no shortage of fun things to do.  So put on your snowpants, bundle up & get outside for some serious fun!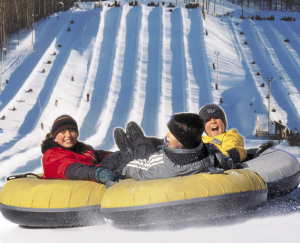 Tubing:
When the snow starts to fall & leaves a good layer on the ground, it's time to head outdoors for some tubing.  It's great fun & no skill is required.  All you need to do is hold on!  In Central Ontario, Arrowhead Provincial Park (north of Huntsville) has tubing, skating & snowshoeing. In Kitchener (Southwestern Ontario), Chicopee Tube Park has a snow barrier to guide tubes safely down the chute. In Milton (GTA), Glen Eden's Tube Park also has skiing.  In Perth (Ottawa region), try River Valley–the first snow tube facility in Ontario & the 3rd in North America.  Calabogie Peaks Resort is another tubing facility.  If you're in Northern Ontario, there's lots of tubing in the Sudbury area – Adanac Ski Hill, Capreol Ski Hill & Lively Ski Hill all have tubing.  Many ski hills not mentioned also have tubing available, so check the Skiing section for more tubing sites.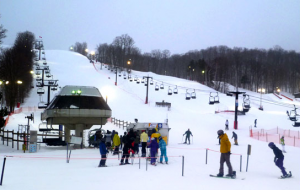 Skiing & Snowboarding:
Skiing & snowboarding are great winter sports that can be enjoyed by all ages, from as soon as kids can walk til your silver years!   Here are just a few of the fantastic ski/snowboard hills around the province.  In the GTA (Thornhill), there's Uplands and in Uxbridge there is Lakeridge Resort. In the Muskoka Region, there's Deerhurst Resort, Blue Mountain,  Horseshoe Valley and Hidden Valley Resort.  Also in Central Ontario, near Barrie, you'll find Snow Valley.  In Trenton (Southwestern Ontario), Batawa Ski Hill is a great choice and in Oshawa you'll find Brimacombe (Home of the Oshawa Ski Club).  In Eastern Ontario, Mount Pakenham (near Ottawa) has skiing, snowboarding & tubing. Please see the Tubing section for more ski resorts.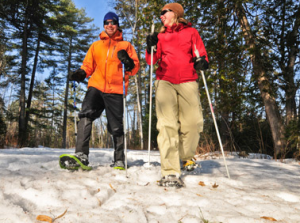 Hiking/Snowshoeing in Conservation Areas & Provincial Parks:
There's nothing more beautiful in winter than a sunny day when the snow is sparkling on the trees and the outdoors is a winter wonderland.  To enjoy this magical time, try a hike in one of our many conservation areas & provincial parks.  Here are just a few to check out. In Grand Bend, Ontario (Southwestern Ont.) there's Pinery Provincial Park. Wasaga Beach (Central Ont.) is a beautiful place to explore in the winter as is Killarney in Northern Ontario.  For hiking trails all over Ontario you can go to the Ontario Trails website where you will find hiking trails by region & by activity. For a great resource on hiking trails in the GTA region, go to the Toronto Hiking website.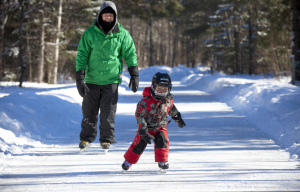 Skating:
Is skating more your sport?  There are tons of wonderful places to skate outdoors in the winter.  In Toronto, you can skate down by the lake at Harbourfront or in front of City Hall at Nathan Phillips Square. In the GTA, you can also skate at Bronte Creek Provincial Park.  In Port Elgin (Southwestern Ontario), you can skate through the woods at MacGregor Point. Just north of Huntsville, in Central Ontario, Arrowhead Provincial Park's winding ice trail is the longest outdoor man-made rink in Ontario.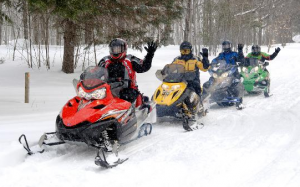 ATV/Snowmobile Tours:
ATV-ing is a major sport in our province and the winter is a great time to try it out.  There are no shortage of companies that do ATV or snowmobile tours.  In the Muskoka, Haliburton & Hastings County areas of Central Ontario, there's Redline Outdoors.  This company runs guided winter ATV/snowmobile tours throughout the region.  Bear Claw Tours runs ATV tours on the Canadian Shield. Haliburton Forest & Wildlife Center (Central Ont) opens their 300km of groomed woodland trails to ATVs in winter.  You can even stay in one of their fully equipped cabins on site.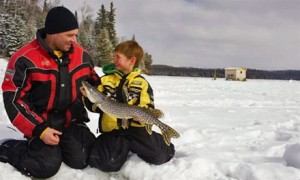 Ice Fishing
Ice fishing is another unique winter activity and there are many ways to enjoy it throughout the province. If you're an expert ice fisher and just want the best information on great fishing destinations & conditions, then go to Icefish Ontario. For information on ice fishing on Lake Simcoe, Great Lakes, Kawartha Lakes, Georgian Bay Northern Lakes & more, as well as to find out about ice fishing hut rentals, go to the Lake Simcoe Outdoors website.  In Northern Ontario, Pasha Lake Cabins was recently named "One of the Top 25 Fishing Destinations in North America".  Some other great resources for ice fishing are:  Southern Ontario ice Fishing and Ice Fishing Ontario.  If you're thinking about taking your family ice fishing, you might want to go on February 14-16 when it's Family Fishing Across Ontario.
Clearly, there are no shortages of fabulous winter activities in Ontario. Whatever your outdoor activity of choice, you'll find lots of great places to do it.