Outdoor Winter fun in Ontario
By Natalie & Phil Friday, January 20, 2017
---
It is officially winter and even though the weather has been relatively mild lately, it's a great opportunity to get outside and enjoy our great province. There are loads of fun things to do when the weather gets a bit colder. We're lucky to have 4 seasons to keep us from getting too bored so check out some of the ideas here and let's take advantage of this one!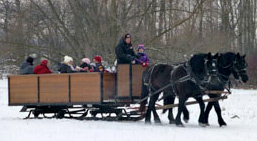 Sleigh Rides
There is nothing like gliding along the snow on a sleigh, especially when you are wrapped up in a cozy blanket. If you get sun glinting off the snow and hot chocolate after, it can be a pretty perfect winter experience. It is a great idea for a special occasion (birthday, anniversary or engagement) or just a winter outing. Here are a few places to have a sleigh ride in Ontario:  St Jacobs Horse Drawn Tours  (Waterloo), Warner Ranch and Pumpkin Farm in Niagara Falls and Wagonwheel Ranch (20 min N of Sudbury).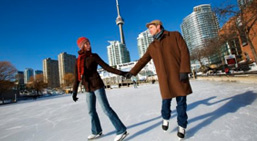 Skating
We're not looking forward to cold weather and snow but this is Ontario, so we have to embrace it. How about going skating?  Ontario's Rideau Canal is the world's largest outdoor skating rink at 7.8km. Another really cool thing to do is visit Ontario's longest outdoor man made skating rink. Arrowhead Provincial Park's Ice Trail is a 1.3 km ice trail through the park. Or in Brampton, visit Gage Park Skating Trail for a nighttime skate under the colourful lights. Your local skating rink, indoor or outdoor, also works. Bring your skates or rent them, and, oh, yeah…there's hot chocolate involved in this one too!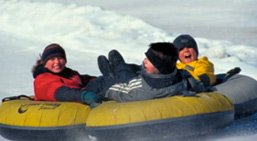 Tubing
Tubing is really fun for all ages, but unlike the winter activities above, it moves just a bit faster! There are lots of places to tube – share a tube or go solo – and expect some speed! Barrie –  Snow Valley Ski Resort, Horseshoe Resort,  Brampton – Mount Chinguacousy, Milton – Glen Eden, Uxbridge – Ski Lakeridge, Ottawa: Pakenham – Mount Pakenham , Kitchener – Chicopee Tube Park, London – Boler Mountain, Thunder Bay – Loch Lomond Ski Area, and Timmins – Kamiskotia Snow Resort (tallest in Ontario – 12 stories high!). Note: Before you go, we suggest that you call or check online to ensure the Tube Park you want to visit has opened for the season as Ontario snowfalls vary place to place and a base is required for operation.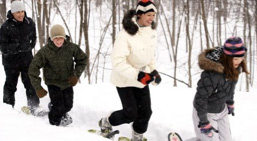 Guided winter tours
When it is snowy out, there are ways of getting around and seeing things that just aren't available in the heat of summer. How about a guided snowmobile tour with Ride on Rentals or go mushing with a guided dogsled day trip? If you like to move a bit more slowly and gets some exercise with your tour, perhaps you should give a guided snowshoe eco tour a try. Your guide will take you on a trail that is not open to the public, show you the den of a porcupine and, like the other fun options above, hot chocolate is the treat at the end!
Whether you're heading out with kids, friends, family or your special someone – remember to notice the beauty of the outdoors in winter, especially when you venture off the concrete roads to find clean, sparkling white snow or hear the unmistakable sound of skates swooshing on ice.