Plan your Summer Theatre & Outdoor Concert excursions now
By Natalie & Phil Tuesday, March 27, 2018
---
Summer Theatre & Outdoor Concerts in Ontario
One of the great things about living in Ontario is the huge selection of cultural and arts offerings available. Summer, in particular, provides loads of opportunities to enjoy live theatre and music. Book now to make sure you see the shows that appeal.
Summer Theatre & Concerts in Southwestern Ontario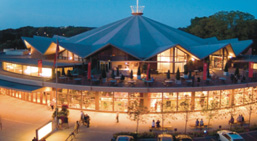 Southwestern Ontario is brimming with great summer performing arts options. From Port Stanley Festival Theatre which highlights Canadian works to Stratford Festival, North America's largest classical repertory theatre company, to Blyth Festival's original Canadian Theatre to Victoria Playhouse Petrolia which presents world class theatre in a delightful small town, you can go town to town enjoying productions all summer. If music is more your thing, Music in the City by Big Time Productions. Peterborough Musicfest has free admission summer concerts every Wed & Sat. Or Stratford Summer Music which showcases 100+ events featuring 500+ artists over a 6 week period each summer.
Summer Theatre & Concerts in Central Ontario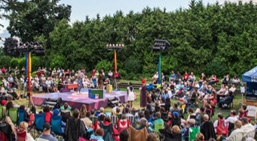 Central Ontario also has a variety of theatre options, many of which are in scenic or historic venues. Driftwood Theatre Group brings its shows around the province with Theatre Under the Stars; every performance is unique to the particular community it is visiting. Gravenhurst Opera House did its first performance in the venue in 1901 and it is still going strong in the same place!  Highlands Summer Festival Live Theatre brings 6 weeks of live theatre & concerts to scenic Haliburton. Theatre Collingwood puts more PLAY in your life with a whole summer season of shows.
Summer Theatre & Concerts in the GTA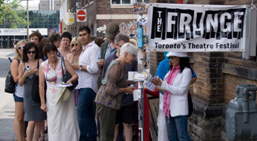 In a place known as Broadway North, you have to assume that there will be a lot of theatre options. Companies like Mirvish which has been presenting theatre year round for over 50 years and Soulpepper Theatre Company which is North America's only year-round repertory company have great options 12 months a year. However, in the summer, there are a few additional options like Toronto Fringe Theatre Festival which features 150 shows in 30 venues around downtown Toronto, including indie theatre, dance, visual art & more. Or Vaughan Celebrates! Concerts in the Park which offers FREE professional concerts select Wednesday evenings.
Summer Theatre in NIAGARA ON THE LAKE and EASTERN ONTARIO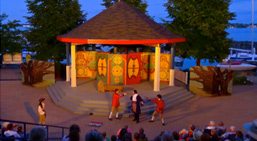 When one talks about summer theatre festivals, it is impossible to do so without mentioning Shaw Festival in Niagara-on-the-Lake. Originally inspired by the works of George Bernard Shaw, the Festival produces plays from his era as well as contemporary world-class theatre ln Niagara wine country. Stop at some wineries while you are there. Another Festival inspired by a single playwright is the St. Lawrence Shakespeare Festival in Prescott, ON. As the only professional theatre company in the St Lawrence Seaway area, it showcases Shakespeare in a unique waterfront Amphitheatre by the St. Lawrence River.
Wherever your theatre or concert tastes fall, Ontario has something for you! Make a weekend out of it and try a new restaurant or browse the one-of-a kind shops that abound in Ontario towns.
Enjoy the play!
Find more Things to do & Places to stay in Ontario.
Shari & Elisa, Publishers – Summer Fun Guide