Santa Claus Parades & Holiday Light Shows
By Shari & Elisa Thursday, November 15, 2018
---
Light up your holiday season!
One of the things to look forward to in November and December, regardless of your religion, is how festive the season feels with all the lights and holiday events. Make the rounds and enjoy as many twinkling lights, Santa Claus parades and holiday markets as you can. We all need a little joy in the world!
Light Festivals (Central & Eastern ON and Ottawa)
Upper Canada Village (Eastern ON) is magical any time but especially when lit up by almost 1 million lights on its heritage buildings, trees and fences during the annual Alight at Night Festival (November 30, 2018 – January 6, 2018 -check out website for specific dates and times).  Sainte-Marie Among the Huron's "First Light" event (Central ON) offers family activities & performers, set amidst the spectacular glow of over 5,000 candles illuminating the famous 17th-century mission.  Christmas Lights Across Canada – National Capital (December 6-January 6, 2019) lights up over 60 landmark sites across Ottawa with >300,000 dazzling Christmas lights; tens of thousands at Parliament Hill's historic buildings alone!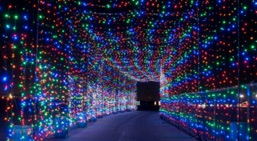 Light Festivals (GTA, Niagara, SW ON)
The Festival of Northern Lights Owen Sound (SW ON) November 17- Jan 6 has 25 km of light strings & 400 lighted designs which illuminate the city's riverbanks, harbour, downtown and park. Bingemans, in Kitchener (SW) is home to the largest drive-thru holiday light tunnel in SW ON; its Gift of Lights stretches>2km with 30+ static & animated displays. The Cavalcade of Lights takes over Toronto's Nathan Phillip's Square with a 60' Xmas tree sparkling with 525,000 lights & 700 individual ornaments. November 24 (6-10pm).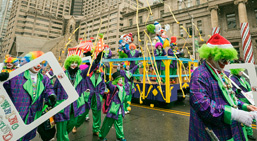 Santa Claus Parades
There are Santa Claus parades in literally EVERY town and city, so we can't get close to giving even an overview. What we can do, is direct you to the SFG Event Calendar which has loads of options around the province, and have highlighted just a few of the biggies here. Toronto's Santa Clause Parade bills itself as "the Original", and at 114 years old, it just might be! This massive, not-for-profit event, Nov 18, spreads the magic! Any area that is home to something called Santa's Village Family Amusement Park has gotta excel in the Santa parade category!  Santa visits multiple towns across the Muskoka region during November and December before heading back to the North Pole to prepare for Christmas.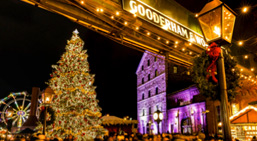 Xmas Markets
This is another category in which there are lots of options. Holiday Street Market (Milton) is Ontario's largest outdoor street market during the holidays with food, marshmallow fire pits, kids' fun & Santa Claus – Dec 1 & 8. The Grand Hall of the History Museum Christmas Market (Ottawa) hosts 80+ vendors over four days, so prepare to do all your gift buying (Nov 30-Dec 3)!  Blue Mountain Christmas (Collingwood), Nov 24/25 has live music, activities & hundreds of vendors.  Village Nol Temiskaming (New Liskeard) has Ice figures, artisans, craftspeople & food, all with a New France theme (Nov 22-24). Christkindl Market Kitchener, (Dec 6-9) offers an authentic German Christmas market experience with vendors, bands, blacksmiths, live nativity & horse-drawn carriages. And last, but certainly not least, Toronto Christmas Market, named one of the world's 10 best Holiday Markets (Fodor's travel, USA Today etc) , has traditional music, Santa's House, a ferris wheel, carousel, life-sized gingerbread house and loads of vendors. (Nov 15-Dec 23 at the Distillery Historic District).
For more things to do & places to stay in Ontario, see Summer Fun Guide.
Enjoy the holidays!
Shari & Elisa, Publishers – Summer Fun Guide