Soar through the trees with Canopy Tours & Ziplines
By Natalie & Phil Tuesday, May 26, 2015
---
Have you ever wanted to "fly through the air with the greatest of ease"? You don't have to be a trapeze artist in the circus to do so anymore!  You can try one of the many ziplines & canopy tours around Ontario and zoom through the treetops with a bird's eye view of the land down below.
Camp Fortune (Ottawa region)
Camp Fortune in the Ottawa/Gatineau region is a must-visit destination if you're looking for the thrills & magnificent views you get from ziplining & treetop trekking.  Walk across the top of the Gatineau Hills or test your balance & daring on a suspended bridge or walkway.  There are ziplines for all skill & excitement levels.  For kids, there's the Children's Park with an obstacle course & mini zipline.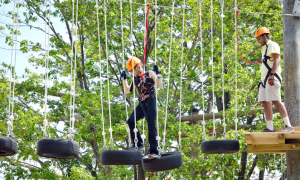 Blue Mountain (Central Ont)
Blue Mountain has so many different opportunities for adventure, activity & excitement.  If you want to get your blood pumping high above the ground, there's the Timber Challenge High Ropes, where participants are suspended high in the forest & move through the course from tree to tree.  Ziplining is a whole new experience at Blue Mountain as you & two friends can zipline together on the Wind Rider Triple Zips.
Long Point Eco-Adventures & Boler Mountain Treetop Adventure Park (Southwestern Ont)
You can explore the Carolinian forest from above at these 2 adventure parks.  At Long Point Eco-Adventures, try a day-long, half day or nighttime package where you'll travel along multiple zip lines & suspension bridges and cross more than 10 platforms.  At Boler Mountain, you can zipline, check out the ropes courses & swinging bridges, or swing on the Tarzan swings.  Finish off your day with the 1100 foot Big Zip Finish.
Horseshoe Adventure Park (Central Ont)
Horseshoe Adventure Park has tons of adventures & thrills to choose from. Their "Treetop Trekking" is an aerial game & zip line park where you can test your fitness & bravery as you traverse the treetop aerial courses by climbing & zipping from tree to tree.  Get your heart pounding on their new Big Zip, which is 1000 ft long, as well as their new Adrenaline Jump (freefall from a 60 ft tree) – YIKES!
Scenic Caves Suspension Bridges & Ziplines (Central Ont)
The views are incredible at Scenic Caves – you can look down at one of Canada's Biosphere Reserves from the highest point on the Niagara Escarpment.  Take a sky-high tour on their 420 foot suspension bridge or opt for speed on Canada's longest twin zip line, the Thunderbird.  You can also take a guided Eco Adventure Tour where you will go zip cable gliding & tour the treetops.
Bissell's Hideaway (Niagara region)
Bissell's Hideaway is a resort in Ridgeville, in the Niagara region.  You can camp, rent a cottage, enjoy the waterpark and explore the Fun Park.  The fun park (you don't have to stay at the resort to access it) has tons of great activities including a 300 foot zip line, 30 feet above the ground!  Or –try the Extreme Air Jump – where you soar 18 feet in the air & flip like the best of the gymnasts.
All across Ontario there are incredible opportunities for sky-high excitement (don't forget to check out the Featured Treetop Adventure below in the GTA region.) No matter your age, skill level or your tolerance for thrills, there's sure to be an activity to suit your needs.